Online:Zone Guide/The Rift
The UESPWiki – Your source for The Elder Scrolls since 1995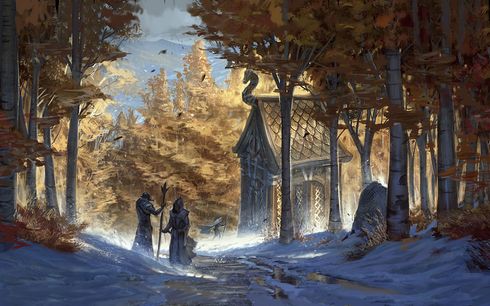 THE RIFT
Skyrim's southernmost hold has a relatively temperate climate, thanks to northern mountains that block the frigid gales of the Sea of Ghosts, and warming volcanoes in the Velothi Mountains to the east. Its capital is Riften, on the shores of broad Lake Honrich.
MAP COMPLETION
| | | | | | |
| --- | --- | --- | --- | --- | --- |
| 18 | 12 | 6 | 19 | 7 | 3 |
| 2 | 1 | 3 | 6 | 16 | 29 |
Zone Story Quests
[
edit
]
Zone Story Quests are the main story arc for the zone. Completing these quests can award you with skill points, experience, gold, and gear.
Wayshrines
[
edit
]
Wayshrines allow free, instantaneous travel between wayshrines that have been discovered and unlocked. You can also travel directly to any unlocked wayshrine from anywhere in the world for a small amount of gold.
Cave Delver
[
edit
]
Delves are solo-able dungeons found throughout the world. Delves will always contain a single skyshard and a boss who drops item set gear.
Points of Interest
[
edit
]
Points of Interest are self-contained stories that explore the lore, characters, and locations within a zone. These can award you with experience, gold, and gear.
Pathfinder
[
edit
]
Striking Locales are places of interest within the world. Discovering all of the Striking Locales in a zone will award that zone's Pathfinder achievement.
Set Stations
[
edit
]
Set Stations are locations in the world where you can craft items with specific item set bonuses.
Mundus Stones
[
edit
]
Mundus Stones are objects in the world that grant a boon in the form of a temporary player buff. This buff will persist until replaced with a different Mundus Stone boon.
Public Dungeons
[
edit
]
Public Dungeons are open world dungeons found throughout Tamriel and beyond. These are designed for four player groups. Completing different parts of Public Dungeons can award you with a skill point, experience, gold, and gear.
World Events
[
edit
]
World Events such as Dark Anchors are activities that occur in the world that are best tackled by a group of adventurers. Completing a World Event can award you experience, gold, and higher tier gear.
World Bosses
[
edit
]
World Bosses are difficult enemies meant to be tackled by a group of adventurers. Defeating a world boss can award you higher tier gear.
Skyshard Hunter
[
edit
]
Skyshards are scattered throughout the world and can be identified by the bright beam of white light they emanate. Discovering three Skyshards will grant you a skill point, which can be used to unlock or morph new abilities.
Clue
Location
Notes
Braced against wind near the mine.
Beside exit to Northwind Mine
(map)
Be Shor to search all over the stone.
Beside Fallowstone Hall
(map)
Nearly discovered by a mauled stablehand.
North of Treva's Farm, west of Mammoth Ridge
(map)
Cultists' prize near Ragged Hills.
West of Angarvunde Mound
(map)
Scour the crags near

Avancheznel 

[sic].
Just northwest of Avanchnzel with Bears
(map)
South where worms swarm the barrow.
South Taarengrav, behind rocks in a crate.
(map)
A prospect found.
Left of Lost Prospect Sanctum
(map)
Walk above the clouds.
Atop Forelhost, there is a stone gate uphill with two torches on each side, skyshard is beside it,
(map)
You must at least start the quest, A Walk Above the Clouds to gain access to the dungeon that leads to the highest point on the mountain. You'll need to keep the bonfires lit to keep from freezing to death when you go for this one.
Stay alert between Riften and Greenwall.
On the road from Riften to Fort Greenwall, closer to the city, in the rocks across the road from a building on right.
(map)
Clank of gears and hiss of steam.
Avanchnzel left after entering
(map)
Guarded by bears in the hollow.
Broken Helm Hollow, Large room, far right after entering.
(map)
Deep in the roots of the tooth.
Faldar's Tooth, small room turn right after entering.
(map)
Where green grows in the fort's wall.
Fort Greenwall, in the middle room with the hole in the floor
(map)
Take a shrouded approach.
Shroud Hearth Barrow, in the middle room, on the right side.
(map)
Tread carefully; don't break a leg.
Snapleg Cave, room far right outside
(map)
Protected by wraiths in a beast's den.
Lion's Den, go through almost to the last camp, right before that camp go Northwest to skyshard in rocks with ice wraiths. Just to the north of the southernmost entrance to Giant's Crush
(map)
Shalidor's Library Books
[
edit
]
Shalidor's Library Books are scattered throughout the world. These books are identified by their distinctive purple glow. Discovering these books will improve your Mages Guild rank and advance the associated skill line.