Main Page
The UESPWiki – Your source for The Elder Scrolls since 1995

Welcome to the Unofficial Elder Scrolls Pages! We have been building a collaborative source for all knowledge on the Elder Scrolls series since 1995, and we could use your help! To begin browsing our site, you should select one of the games on the left side menu. If you would like to help us build the site, you can learn how to get started as an editor, read over the help files, or look through our guide to helping out. If you'd like to discuss The Elder Scrolls with other users, please consider using the UESP forums or Discord server.
This site's purpose is to provide information; therefore, most of the content contains spoilers.
---
Latest News
Christopher Plummer Dies Aged 91 —

February 5, 2021
Dwarven Mail Creation Temporarily Free —

February 4, 2021
Robert A. Altman Dies Aged 73 —

February 2, 2021
The Elder Scrolls Online Starts Midyear Mayhem Event —

January 28, 2021
The Elder Scrolls: Blades Patch 1.11 Releases —

January 28, 2021
The Elder Scrolls Online Reveals Details on Gates of Oblivion —

January 26, 2021
Dragonscale Creation Temporarily Free —

January 21, 2021
ESO Plus Free Trial Begins —

January 19, 2021
Elder Scrolls Online Global Reveal Event Delayed —

January 13, 2021
Stalhrim Fur and Nix-Hound Creations Temporarily Free —

January 8, 2021
The UESP and Imperial Library interview Modiphius Entertainment —

December 28, 2020
Current Featured Article
Nchuthnkarst is a Dwemer ruin located in Dusktown Cavern in Blackreach: Greymoor Caverns. It contains all manner of exotic enemies which have been transported through time. Kireth Vanos can be found standing outside over the corpse of a Snowblade Stalker. (more...)
Current Featured Image
Did You Know...
Support UESP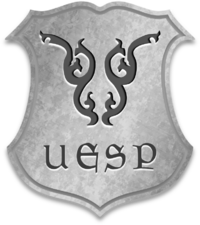 The UESP is one of the oldest independently-run gaming websites on the Internet, and has been supporting the Elder Scrolls community since 1995. You can support the UESP's continued operation through our Patreon, as well as receive various benefits. Another way to support UESP is to join the editors who help build the site. You can learn more about that here.