Online:Crown Store
The UESPWiki – Your source for The Elder Scrolls since 1995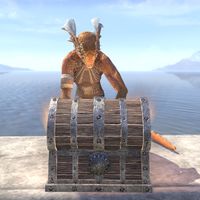 This article is about the in-game store. For the store on the official website, see PC/Mac Store.
The Crown Store is an in-game store which allows for the purchasing of exclusive content, such as items and DLC.

Crowns are the currency required to buy things from the store, and can be purchased separately or obtained by paying for an ESO Plus subscription. There is no way to earn Crowns in-game.
Crowns and Crown Store items cannot be sold or transferred to other accounts.
If you have an account on both megaservers, you will be able to use your Crowns on both servers; however, any items purchased will remain on the server that they were purchased on.
The Crown Store has new items added monthly. The items may have themes: if there is a DLC based on Daedra, for example, then there may be items in the shop that are Daedric-themed. Items in the Crown Store have a "preview" function, so that you can see what an item looks like with your character before purchasing it.
For a list of items, see one of the following links:
Obtaining Crowns
[
edit
]
Crowns can be obtained in the following ways:

Purchased on the store:

750 for $7.99 USD
1500 for $14.99 USD

For the same amount of money, you can instead purchase 1 month of ESO Plus and get 1650 crowns.

3000 for $24.99 USD
5500 for $39.99 USD
14000 for $99.99 USD
21000 for $149.99 USD

This isn't any more efficient than buying 14k for 100 dollars, but costs you more upfront.

Having an ESO Plus subscription; 1650 crowns per month are given at the start of the subscription period.
500 Crowns are given to all accounts with a copy of the game, whether they were created prior to or after the addition of the Crown Store.
Winning official contests or attending certain conventions
The following table summarizes the rates of return, rounded to hundredths of a crown per dollar. The entries with parentheses are the Crown allotments that come from an ESO+ subscription. In the Crowns column, the table lists the total number of Crowns received and the length of the subscription. In the Cost column, the total cost is listed with the monthly cost in parentheses.
Crown Store Rates of Return

| Crowns | Cost (USD) | Crowns Per Dollar |
| --- | --- | --- |
| 750 | 7.99 | 93.87 |
| 1500 | 14.99 | 100.07 |
| 3000 | 24.99 | 120.05 |
| 5500 | 39.99 | 137.53 |
| 14000 | 99.99 | 140.01 |
| 21000 | 149.99 | 140.01 |
| 1650 (30 Days) | 14.99 (14.99) | 110.07 |
| 4950 (90 Days) | 41.97 (13.99) | 117.94 |
| 9900 (180 Days) | 77.94 (12.99) | 127.02 |
| 19800 (365 Days) | 139.99 (11.67) | 141.44 |
Gifting
[
edit
]
Update 18 introduced gifting to the Crown Store, which allows players to gift Crown Store items to other players directly.
Certain criteria must be met before the ability to gift is unlocked; new players need to become an ESO Plus member or make a Crown Pack purchase and wait 30 days in order to gain the ability to gift. Existing players who have never purchased Crown Packs or ESO Plus must also make a Crown Pack purchase and wait 30 days. Players with an existing history of purchases and ESO Plus membership will have gifting unlocked for them.
The gift recipient has 14 days to accept or decline the gift. If they decline then it returned to the original sender who is unable to make use of it themselves, although they can resend it or send it to a different player. Player Housing and "instant unlock" items like Bag Space Upgrades and Curse of Vampirism are not able to be gifted at this time.
Senders can write a personal message or choose from a small selection of preset messages, listed below:
Likewise, those who receive gifts can do the same with thank-you messages, the presets of which are listed below:
Limited Time Offers
[
edit
]
| Name | Price | In-game description | Notes | Date Removed |
| --- | --- | --- | --- | --- |
Name
Price
In-game description
Notes

Date Removed

Any Race, Any Alliance Bundle
2,000 
Unlocks the ability to create characters of any Alliance regardless of race. Represent your Alliance with a Mount, Pet, Costume, and Hat!
Also contains a Race & Name Change Token, 3 Experience Scrolls, and a collection of Treasure Maps.
In addition to unlocking the "Any Race, Any Alliance" feature, the bundle also contains:
1x Name and Race Change, Alliance Rider Hood, Alliance Rider Outfit, Alliance War Dog, Alliance War Horse, Coldharbour Treasure Map, Covenant Treasure Map, Dominion Treasure Map, Pact Treasure Map, 3x Major Gold Coast Experience Scroll
PC/Mac: May 20 2019
Console: 4 June 2019
Starter Pack
500 
Utility pack of consumables such as Potions, Foods, Soul Gems, Repair Kits, XP Scrolls, and Poisons—plus a Black Panther Cub Pet!
The fifth iteration of the starter bundle, containing 5 Experience Scrolls, 5 Fortifying Meals, 240 Lethal Poisons, 5 Repair Kits, 10 Soul Gems, 30 Tri-Restoration Potions, and a Striped Senche-Panther Cub.
PC/Mac: 22 May 2017
Console: 6 June 2017
Starter Pack, Adept
1,000 
Utility pack of consumables such as Potions, Foods, Soul Gems, Repair Kits, XP Scrolls, Riding Lessons, and Poisons—plus a White Mane Horse and 3 Costumes!
An expanded starter pack, containing 10 Experience Scrolls, 10 Fortifying Meals, 255 Lethal Poisons, 10 Repair Kits, 20 Soul Gems, 90 Tri-Restoration Potions, 5 Riding Capacity Lessons, 5 Riding Speed Lessons, 5 Riding Stamina Lessons, Crafty Lerisa's Thief Outfit, Knight of the Flame outfit, Mages Guild Research Robes, a White Mane Horse, and an exclusive Dye Stamp.
PC/Mac: 22 May 2017
Console: 6 June 2017
Steadfast Stablemaster Bundle
1,800 
Everything you need to pamper your heroic horse companion waits for you in this bundle—including the horse! Shelter, food, tasty treats, and more allow you to master your grooming skills, improve your riding proficiency, and cosset your beloved steed.
A bundle geared towards mounts, consisting of three riding lessons, furniture and a horse. The bundle includes the Whiterun Windsteed, Crown Lesson: Riding Capacity, Crown Lesson: Riding Speed, Crown Lesson: Riding Stamina, Basket of Apples, Full, Breton Stool, Plain, Carrots, Wax, Common Pack, Backpack,

Hlaalu Shed, Open, Nord Cart, Hay, Straw Pile, Tool, Pitchfork, Watering Trough, Full,

11 June 2020
The following is a list of all Crown Store Showcase articles published each month on the official site:
| 2021 | 2020 | 2019 | 2018 | 2017 | 2016 | 2015 |
| --- | --- | --- | --- | --- | --- | --- |
| | | | | | | |
On Xbox One the Crown Store can be used to buy ESO Plus subscription time from the Xbox Marketplace. PS4 ESO Plus subscriptions must be bought through the PlayStation Store.
A "Pay to Lose" category was added to the Crown Store for April Fools' Day 2017, as a reference to the "Pay to Win" trope often associated with subscription-free MMO games which gain revenue through a cash shop. It contained a level 1 broom two-handed weapon and a level 1 bucket heavy helmet.
Lore snippets taken from the Crown Store Showcase series can be read here.
Anyone with an existing account at the time of the change to Tamriel Unlimited - whether with an active subscription or not - was given 100 crowns for every month that they had been subscribed.
Anyone with an active subscription at the time of the change to Tamriel Unlimited was given 1500 crowns per month remaining (with 0-30 days counting as 1 month, 30-60 counting as 2 months, and so forth).
Players who originally created an ESO account with ZeniMax but later switched to the Japanese version lost all remaining Crowns upon making the transition to DMM.