Online:Summerset
The UESPWiki – Your source for The Elder Scrolls since 1995
This article is about the main island of Summerset Isles. For the Summerset chapter, see Summerset (chapter).
"The land called Summerset is the birthplace of civilization and magic as we know it in Tamriel. On its idyllic sea-kissed shores live the Altmer, the High Elves."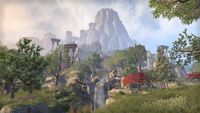 Summerset is a large island off the southwestern coast of mainland Tamriel.
The zone includes the entirety of Summerset Isle, the largest island of the Summerset archipelago. It is included with the Summerset Chapter of the game.
Settlements
[
edit
]
Farms and Plantations
[
edit
]
Groves and Marshes
[
edit
]
Caves, Ruins and Mines
[
edit
]
Dungeons
[
edit
]
Group Bosses
[
edit
]
Abyssal Geysers
[
edit
]
Points of Interest
[
edit
]
Player Houses
[
edit
]
Wayshrines
[
edit
]
Unmarked Locations
[
edit
]
For Psijic Order faction quests, please see Psijic Order Quests.
Story Quests
[
edit
]
Side Quests
[
edit
]
Trials Quests
[
edit
]
Daily Quests
[
edit
]
Its coastline features Abyssal Geysers, a Summerset counterpart to the mainland's Dark Anchors.
The island and some locations on it, like Shimmerene and the Crystal Tower, can be seen from the western shores of Auridon.
The southern portion of the island was originally planned as the starter zone for the Aldmeri Dominion players. The storyline involved a joint Maormer and Sload invasion, and Queen Ayrenn's name was initially "Ayarynne".
Each image is relevant to its location, and each number corresponds to the key on the right.
Gallery
[
edit
]