Online:Mercenary Style
The UESPWiki – Your source for The Elder Scrolls since 1995
This article could benefit from an image
of:
A character modelling each type of gear - maybe two so we get both gender versions
See Help:Images for information on how to upload images. Please remove this template from the page when finished.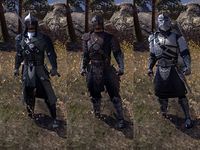 The Mercenary Style is a crafting skill that can only be learned by reading the book

Crafting Motif 19: Mercenary Style or its individual chapters. These chapters (or rarely the entire book) are a possible reward for completing daily Undaunted pledges, with Bronze, Silver, and Gold chests all having a high chance of containing a chapter. Crafting Mercenary items requires a

Laurel. Like all styles, Mercenary equipment is purely cosmetic. Items will have the same stats regardless of the style you use.
The following items are in the Mercenary Style:
Type
Items
Light Armor
Hat
Epaulets
Jerkin
Robe
Gloves
Sash
Breeches
Shoes
Medium Armor
Helmet
Arm Cops
Jack
Bracers
Belt
Guards
Boots
Heavy Armor
Helm
Pauldrons
Cuirass
Gauntlets
Girdle
Greaves
Sabatons
Weapons and Shields
[
edit
]
Weapons and Shields
Dagger
Sword
Axe
Mace
Greatsword
Battle Axe
Maul
Bow
Staff
Shield
Gallery
[
edit
]