Online:Giant Wasp
The UESPWiki – Your source for The Elder Scrolls since 1995
Giant Wasp
(lore page)
Location
Varies
Species
Giant Wasp
Health
31364
Reaction
Hostile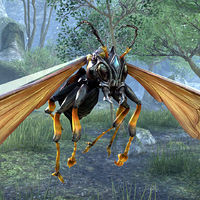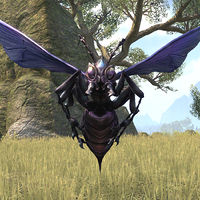 Giant Wasps are gigantic, hostile flying insects.
Skills and Abilities
[
edit
]
Giant Wasps are considered flying creatures, and thus snares and roots will not work on them.
Bite

A basic melee attack that does minor physical damage.

Sting

A heavy melee attack that does moderate physical damage. This attack can be blocked to set the wasp off balance.

Charge

The wasp flies forward, doing moderate physical damage and knocking down all enemies as indicated by a red rectangle.

Inject Larva

The wasp lays some eggs on the player's back. After a while, two Young Wasps will appear. Usually, these will both be hostile, but occasionally a friendly Young Wasp will appear instead. This spell can be interrupted to set the wasp off balance, but cannot be avoided. The friendly wasp will also follow the player around and attack enemies for a few minutes or until it is killed.
Related Quests
[
edit
]
Unique Giant Wasps
[
edit
]
Variations
[
edit
]
Many Giant Wasps are often called simply "Wasp". There are also small, passive creatures called Wasps, which may often be found in the same areas.