Online:Bantam Guar
The UESPWiki – Your source for The Elder Scrolls since 1995
Bantam Guar
(lore page)
Location
See Below
Species
Bantam Guar
Health
1
Reaction
Passive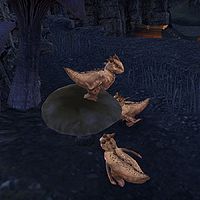 Bantam Guars are small, docile passive creatures that flee when approached. They may yield Poultry when killed. In one book on fauna they are described as part of the scuttler family and unrelated to true guar. They are also commonly called "ugly chickens" due to their appearance and behavior, and like chickens are raised for eggs and meat.
Although native to Morrowind, bantam guars are also found in other, far-flung places such as Khenarthi's Roost.
Unique Bantam Guars
[
edit
]
Locations
[
edit
]
Achievements
[
edit
]
There is one Achievement associated with this creature:
Achievement
Points
Description
Poultry Assassin
5
Kill a livestock chicken or bantam guar.
The bantam guar Honor has a unique blue tint, possibly implying that he is Soul Shriven.