Online:Rala
The UESPWiki – Your source for The Elder Scrolls since 1995
Rala
Home Settlement
Wittestadr
Race
Dunmer
Gender
Female
Reaction
Friendly
Pickpocket
N/A
Profession
N/A
Other Information
Condition
Vampire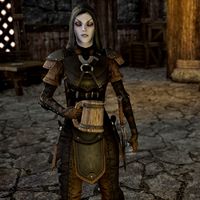 Rala is a Dunmer member of Valeric's coven found in Wittestadr.
Related Quests
[
edit
]
Dialogue
[
edit
]
"I'm tired of being stuck in here all day long. Such a shame. When we walk in the beautiful sunlight, we burst into flames."
"Though I suppose it does make taking a stroll more exciting."
You're rather polite for a vampire.
"Just because I'm not attempting to rip you open and feast on your blood doesn't mean that I'm not thinking about it."
"It's our nature to lust for the life within you. Luckily for you, Valeric has taught us to control our hunger."
Valeric?
"Valeric saved us. He has his reasons, I guess."
"He even infiltrated a Dominion military camp to save Jaruk. The Khajiit was dying and Valeric turned him."
And what about you?
"I was different once. A servant, given to the Nords as a gift when this alliance was formed."
"Eventually, though, my masters grew tired of me and I was thrown out into the cold."
How did you survive?
"I didn't. The cold overtook me. The next thing I remember, Valeric was watching over me. He gave me his gift to save me."
"It's kind of funny. On the day I died, my life truly began."