Online:Tunus
The UESPWiki – Your source for The Elder Scrolls since 1995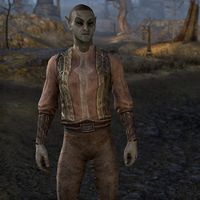 Tunus is a Dunmer and the mortal servant of Majorn the Ancient, a powerful Volkihar vampire. During the related quest, he serves as Majorn's messenger.
Related Quests
[
edit
]
Dialogue
[
edit
]
Tunus approaches you as you go to throw the balloons full of cat urine at the hunters for Valeric:
Tunus: "Majorn, my master, would like to speak with you."
"You've made contact with Majorn's son, Valeric. He's a troubled young man, ashamed of his heritage.
Majorn simply wishes to end the conflict with his son. For this reason, my lord requests to meet with you."
Why me?
"Oh, it's not just you. Others have tried to help Valeric. They either see how futile their task is or they fail.
My master wants to explain this to you. You don't have to make any decisions right now. Just hear him out."
"He will meet with you in his manor, the one to my left.
No harm will come to you at this time. Majorn gives you his word."
Majorn created the bloodfiends! I won't meet with him.
"You deny an invitation from my lord? You are foolish, just like the ones before you.
Majorn shall know of this. You have made a terrible mistake this day."
If you sided with Valeric, Tunus can be seen once again, this time being fed upon by Rala.
Tunus is not a vampire, though he does serve one.