Online:Cariel
The UESPWiki – Your source for The Elder Scrolls since 1995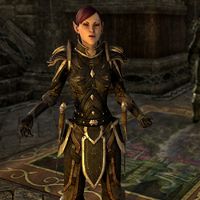 Cariel is a Bosmer who serves the Aldmeri Dominion as an Eye of the Queen. She is encountered several times across the Dominion territories.
Related Quests
[
edit
]
Dialogue
[
edit
]
Striking at the Heart
[
edit
]
"When Raz told me about Hectahame, I couldn't get here fast enough. Now I can't even get inside.
To top it off, this Vinedusk won't leave me alone. Boys."
The Colovian Occupation
[
edit
]
Cariel: "Welcome to the Arenthia resistance!"
Cariel: "Nice work!"
"(?)"
"Our mutual friend Mister Razum-dar has this... appreciation for disguise. He may have even shown you this earring he keeps around. It has a very simple illusion spell woven into it. No good for long-term missions, but perfect for quick infiltrations."
So I'll appear as Gavo, then. What about Gavo?
"I'm going to gag him and dress him as your prisoner. Then, like I said. You simply walk him out the front gate. Easy as lying. This will take just a moment. You ready?"
Ready.
Kidnapping Centurion Gavo:
Centurion Gavo: "What... what happened? Who are you?"
Cariel: "Another word and you're dead. Get up."This is your escort. Follow them, and don't speak.
Cariel: "You won't see me, but I'll be watching. Try anything and you'll be the first to die."
Cariel: "Nod if you understand me."
<he nods>
Cariel: "Such a good boy!"
Cariel: "He's all yours! I'll go on ahead, but I'll be nearby."