Daggerfall:Betony Demo
The UESPWiki – Your source for The Elder Scrolls since 1995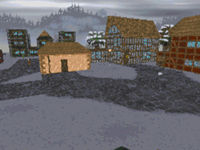 The Betony Demo is a rare Daggerfall demo set on the Isle of Betony. It was the third and final major Daggerfall demo to be released, following the early preview CD demo and dungeon demos. This demo includes a tutorial and quest, and features the full game's character creation system and most gameplay mechanics, though skills are capped at 40%. There is a time limit for each individual save of around 50-100 in-game days, but you can start an unlimited number of new games. The locations found in this demo are unique to it and not found in the final release, though the region itself does appear.
Six pregenerated characters are made available by default: a Knight, Ranger, Sorcerer, Spellsword, Warrior, and a custom class named "Protector". Whether you choose one of these or create a new character, the game then begins at the gates to the city of Betony.
The Betony Demo can be downloaded from the Files page.
In addition to this tutorial and quest, several quests from the full game are available in the demo.
Merchants and Innkeepers quests
Knightly Orders quests
Temple quests
Dark Brotherhood quests
The Acceptance Test: The acceptance test for the Dark Brotherhood.
No Escape: Execute a former member who tried to escape from the Brotherhood's retribution.
A Renegade Mage: Execute a renegade mage on behalf of the Mages Guild.
Fighters Guild quests
Mages Guild quests
Thieves Guild quests
Nobles quests
Service Locations
[
edit
]
The demo features locations which cannot be found on Betony in the game's full release.