Online:Wearing the Veil
The UESPWiki – Your source for The Elder Scrolls since 1995
This page is currently being rewritten as part of the Online Quest Project.
The page is being both written and checked. All users are welcome to make changes to the page. If you make a change that is relevant to the project, please update this template accordingly, and make sure you have observed the project guidelines.

This article could benefit from an image.
See Help:Images for information on how to upload images. Please remove this template from the page when finished.
I've been taken to the secret island stronghold of the Veiled Heritance. If I can pass their trials, I may be able to discover the true leader behind the Veil.
Quick Walkthrough
[
edit
]
Solve the riddles at the Trial of Intelligence.
Run around the Veiled Isle for the Trial of Endurance.
Defeat the other recruits at the Trial of Strength.
Talk to Alandare.
Detailed Walkthrough
[
edit
]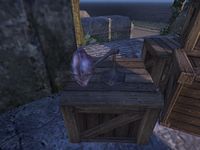 You must pass three trials to become a Veiled Heritance officer. If you succeed you will be able to see the Veiled Queen.
Trial of Intelligence
[
edit
]
Ohmonir, to the east, is in charge of the first test. He will use two riddles to test your intelligence. You need to select the correct item from the tables, and talk to Ohmonir after you have made your guess. Possible riddles are:
Two bodies have I, two joined into one,
The more I stand still the faster I run.
I flip on my head, Some watch me with dread.
What am I?
Answer: Hourglass
I'm always smiling, but I never laugh.
I once loved life, from cat to calf.
I'm always staring, but I cannot see.
I once held secrets, those given to me.
What am I?
Answer: Skull
My life is measured in hours,
I serve by being devoured.
Thin, I am quick,
Fat, I am slow,
What am I?
Answer: Candle
Friend to soldiers, guardsmen, and mercs.
Scarred from battle, unbowed by hurt.
I always face forward when battle is joined.
When on the march, I watch from behind.
What am I?
Answer: Shield
I attend every battle.
I attend every duel.
My tooth is sharp.
My swing is cruel.
What am I?
Answer: Sword
Keep me with you to survive
In the fields of death few keep alive
I am like a taller knife
deadly enough to end a life.
Answer: Sword
Always smiling but cannot laugh
Always staring but cannot see
Once held secrets and dreams
Answer: Skull
When young, I'm sweet in the sun.
When middle-aged,I'm the life of the party.
When old, I'm worth my weight in gold.
When I'm gone, everyone laments my absence.
Answer: Wine
I have lots to say but never speak,
I open but you cannot walk through me,
I have a spine but no bones.
Answer: Book
Trial of Endurance
[
edit
]
Varustante, to the north of Ohmonir, will test your heart's endurance.
You need to run around the island. Blue flames mark the course. You need to run close to each of them.
The course ends near the center of the island. Talk to Varustante again to complete the trial.
Trial of Strength
[
edit
]
Alandare and the last trial are east of Varustante.
You need to defeat the other recruits to become an officer.
Complete the trial, and Alandare welcomes you as an officer of the Veiled Heritance.
If you leave the island, you can return by activating the boat located at the eastern end of Skywatch docks. (map)
Quest Stages
[
edit
]
Wearing the Veil
Finishes Quest
Journal Entry
For my first trial, I must prove my intelligence. I should speak to Ohmonir to begin this trial.

Objective: Talk to Ohmonir

(?)

Objective: Select Your Answer

(?)

Objective: Talk to Varustante

(?)

Objective: Reach Next Marker

(?)

Objective: Run to Next Checkpoint

(?)

Objective: Complete the Race

(?)

Objective: Talk to Alandare

(?)

Objective: Defeat the Other Initiates

(?)

Objective: You Chose Poorly

(?)

Objective: Finish the Race