Online:Vorundil
The UESPWiki – Your source for The Elder Scrolls since 1995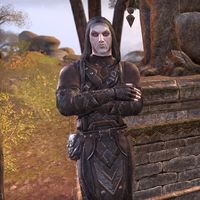 Vorundil is an Altmer vampire found in the cities of Evermore, Rawl'kha and Riften. He points players infected with vampirism towards the Blood Matron's Crypt. In Riften, he is located on the road heading east out of the north of Riften. In Rawl'kha he is at the bridge in at the eastern entrance to the city.
Related Quests
[
edit
]
Dialogue
[
edit
]
If you were bitten by a bloodfiend, you need to speak to Vorundil:
"Ah, that look. So familiar. Your mouth is dry, your blood boils in your veins, while your skin turns as cold as ice. Your body does not accept the blessing for what it is. It resists."
What is happening to me?

"You were attacked by a vampire, were you not? The blood of Mother Lamae flows within you. I wonder: will you embrace it, or will you fight it?"
I don't know how to do either.
Thank you.

"Follow your blood. It will lead you to Rahaja. Perhaps we will be kin one day."
At this point, the quest begins. You can choose to ask him about Mother Lamae.
Who is Mother Lamae?

"Mother Lamae was the first of us. Molag Bal made her his unwilling bride and through her brought terror to the night. Through her, he created the vampire kin. She is the blood-matron, mother to us all."