Online:Teldur
The UESPWiki – Your source for The Elder Scrolls since 1995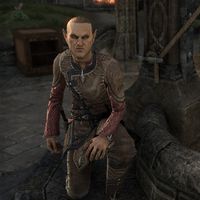 Teldur is an Altmer citizen of Silsailen and the assistant to Canonreeve Valano.
Related Quests
[
edit
]
Quest-Related Events
[
edit
]
Silsailen Rescue
[
edit
]
You find and aid him at the request of Elenwen. He is initially suspicious of a new face while the town is overrun by marine imposters:
"Are you insane? Can't you see the town is under attack?"
Elenwen sent me to help.
"Did she? How do I know you're not one of the imposters?"
Look, do you want me to help or not?
"Fine. Grab that bucket from the well and put out the fires. If you find any villagers, tell them they need to evacuate until it's safe.
What are you waiting for? Move like you have a purpose!"
What are you going to do?
"Refuse to answer an outsider's pointless questions, for one. I'll catch up with you at the barn later. Now go!"
If you try talking to him after this, he will just say, "What are you still doing here? Go!"
However, once you have rescued some citizens, Teldur will not be found at the barn.
Teldur's End
[
edit
]
Eventually Elenwen will find you and explain that she witnessed eldur kidnapping the Canonreeve, so she supposes he is the traitor. Once you make your way into the Manor, you will find a gravely injured Teldur who has his own story to tell.
"The Canonreeve … betrayed us. Betrayed us all …."
Elenwen said you were the betrayer!
"I … found proof. Canonreeve Valano … member of the Veiled Heritance. Didn't want to believe.
I confronted him. He … tried to escape. Captured him … brought him here. His men were waiting."
I need to get you some help.
"No! Too late for me. Must go! Stop Valano … before he escapes."
Teldur?
At this point, he dies.