Online:Soul Survivors
The UESPWiki – Your source for The Elder Scrolls since 1995
This page is currently being rewritten as part of the Online Quest Project.
The page is being both written and checked. All users are welcome to make changes to the page. If you make a change that is relevant to the project, please update this template accordingly, and make sure you have observed the project guidelines.

| | | | | |
| --- | --- | --- | --- | --- |
| | | Free village leaders from Coldharbour's clutches. | | |
Three villages were absorbed into a plane of Oblivion, in an attempt to bring them into Coldharbour: one Dunmer, one Khajiit, and one Orc. The Dunmer Suronii has a plan to help herself and the other village leaders escape.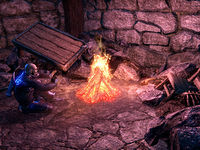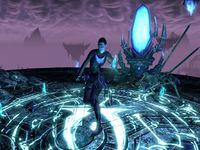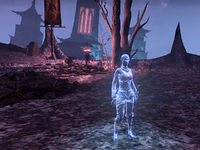 Quick Walkthrough
[
edit
]
Find Zirani and Ugorz in the ruins of their respective villages and talk to them.

If you fail to convince them, kill their nearby Taskmaster.

Head to the Overseer's Overlook.
Talk to Suronii.
Jump off the cliff or refuse to help Suronii.
Depending on choice; talk with Suronii or Overseer Grexev.
Detailed Walkthrough
[
edit
]
When you get to the stage where you're supposed to sacrifice yourself, you can port away or take the portal to the left of the cave leading onto Overseer's Overlook. The next time you die, no matter where you are, your quest journal will update, having registered your death as a sacrifice for the group.
If you sacrifice yourself, Suronii, Ugorz and Zirani will all be found around The Hollow City, Suronii at the fountain in front of The Shining Star, Zirani near a tree beside the tavern, and Ugorz by a statue at the bottom of the stairs nearby. In the event that you refuse to aid Suronii, you will need to kill her, Zirani and Ugorz. Overseer Grexev will appear and commend you for your actions, before handing you some leveled gold and permitting you to leave.
Some time after March 2014, the option to refuse to sacrifice yourself for Suronii was removed.
There also used to be a way to save Suronii and her troupe without dying. You would have the choice to smash a Sigil Stone against the Daedric Lense on the Overseer's Overlook to free them. If you chose to kill Suronii, you could have used the sigil stone on the lens to doom the trio, or give the sigil to Suronii to allow them to escape.
Quest Stages
[
edit
]
Soul Survivors
Finishes Quest
Journal Entry
Suronii sent me to find the leaders of the Khajiit and Orc villages. I need to help each to escape to the Overseer's overlook.

Objective: Talk to Zirani

(Appears if you fail to convince Zirani to leave.)

Objective Hint: Kill Taskmaster Uldun

Objective: Talk to Ugorz

(Appears if you fail to convince Ugorz to leave.)

Objective Hint: Kill Taskmaster Mirit

I've freed the village leaders. I should meet all three at the overlook in the central mountian [sic].

Objective: Go to the Overseer's Overlook

I have reached the overlook. I should talk to Suronii.

Objective: Talk to Suronii

Suronii wants me to sacrifice myself to power her spell to reach Tamriel. I should either leap off the overlook to sacrifice myself, or tell Suronii that I refuse to go along with her plan.

(Stage appears if you go along with her idea.)

Objective: Jump Off The Cliff

I have died, powering Suronii's spell. The image of Suronii remains. Perhaps I should speak to it.

Objective: Talk to Suronii

(Stage appears if you refuse. Branch is currently incomplete)

Objective: Tell Suronii You Refuse

?

Objective: Kill Zirani

Objective: Kill Ugorz

Objective: Kill Suronii

I defeated Suronii and her allies, who turned on me when I refused to be the sacrifice for their spell. A Daedra appeared in the aftermath of the battle. I should speak to it.

Objective: Talk to Overseer Grexev

Suronii wants me to give her the Sigil Stone so she can send her and the other leaders back to Tamriel. Overseer Grexel wants me to use the Sigil on the lense myself and doom the leaders.

Complete one: Give Sigil Stone to Suronii or Destroy the Sigil Stone

Objective: Talk to Overseer Grexev