Online:Kareem Winvale
The UESPWiki – Your source for The Elder Scrolls since 1995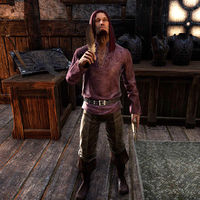 Kareem Winvale is a Breton clothier who can be found at his store, Winvale's Winsome Loom, in Daggerfall. You will need to talk to him during the related quest.
He is the father of Harald Winvale, who left to join the Bloodthorn Cult.
Related Quests
[
edit
]
Quest-Related Events
[
edit
]
When you approach him, he welcomes you.
"Welcome to my shop. How may I help you?"
Once Blood and the Crescent Moon is started, you can ask him about the items on the list.
"Interested in a set of new clothes? Something in silk, perhaps? No one ever leaves my shop empty handed."
I'm looking for a cloak with a crescent emblem.
"I'm afraid those aren't for sale. The crescent moon is the heraldry of the Casimir family, the rulers of Daggerfall."
Why would a dead man write that on a note?
"Dead? Rugged fellow, had a dog? That's Roy. Well, that was Roy. I'm sorry he's dead, but I'm not surprised.
If you figure out what Roy knew and who killed him, I'm sure someone will reward you. It's also a good way to get yourself killed."
At this point you can ask him more questions.
Were you and Roy good friends?
"I guess. I liked Roy. He watched out for the merchants around here. And, in exchange, we helped Roy.
I listened and let Roy know what people were saying. If we ever told him something important, Roy made sure the right people were informed."
Tell me more about Roy.
"Roy was a good man. Loyal to Daggerfall. People trusted him. Even that old dog loved him."
I discovered the meaning of all the items on the list. Where should I report this?
"If a crime has been committed, talk to Captain Aresin. It's his job to keep the city safe, so he's as good a choice as any.
He's usually by the great stairs behind the Mages Guild. He likes to keep an eye on the approach to the castle."