Online:Hahnin
The UESPWiki – Your source for The Elder Scrolls since 1995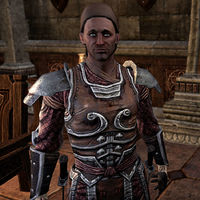 Hahnin is a Redguard member of the Fighters Guild who can first be encountered in the Fighters Guildhall within the Hollow City. He will later take part of the assault on the Endless Stair as the commander of the Fighters Guild forces.
Related Quests
[
edit
]
Dialogue
[
edit
]
The Hollow City
[
edit
]
"Feels good to be somewhere safe again. I don't know how much longer we would have survived out there.
I'm just going to enjoy this quiet time for as long as it lasts."
The Final Assault
[
edit
]
Hahnin will be one of those gathered at the portal entrance.
"The Fighters Guild came to Coldharbour for this express purpose—to stop the Planemeld and save our world.
No matter how many of us fall this day, we shall not fail!"
When you speak with Vanus Galerion, he will suggest you speak with Hahnin and Gabrielle Benele for your briefing.
"The Fighters Guild is ready. We're prepared to follow you into the very heart of Molag Bal's lair.
We shall not fail you."
Vanus said you'd brief me on the plan.
"Of course. We've already sent in a small force. A distraction, as it were. While they keep the enemy occupied, you slip in and open the Labyrinth.
As you clear a path, Fighters Guild soldiers will fall in behind you to hold the line."
So I can expect help while I'm in there?
"You need to be able to move fast. A large force would only draw attention to you and slow you down. Select one of our soldiers to take along, if you like, but more than that would be more of a hindrance than a help.
I wish you luck in there."
So you're willing to accompany me?
"Fight alongside you? That would be a true honor. But the Fighters Guild needs me right now. Someone has to command our forces.
After you clear a path to the Labyrinth, I shall lead the charge inside."
I wish you luck.
"And luck to you, as well.
Make them pay for all the pain and suffering they've caused. And for our friends and allies that have fallen along the way."
According to Vanus when you talk to him after escaping the Statue Room, Hahnin was killed in the fighting after his group was overwhelmed.
Sometimes Hahnin will not appear in game when King Laloriaran Dynar is rescued but only after the city Services are open. ?