Online:Captain Kaleen
The UESPWiki – Your source for The Elder Scrolls since 1995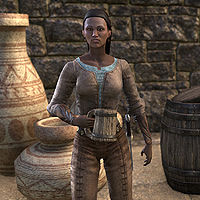 Captain Kaleen is a Redguard captain of The Spearhead. After the Daggerfall Covenant was formed, she insisted upon no longer looting Breton ships, and her crew mutinied against her, leaving her with only a few loyal sailors afterward. She will ask for aid in several quests, including recruiting additional crew members, and can initially be found in Port Hunding. She reveres King Fahara'jad and supports the Daggerfall Covenant at all cost. This leads her to have a skewed morality and makes others dislike her. Even her own mentor thinks she has lost her way at the end of Carzog's Demise.
Related Quests
[
edit
]
Quest-Related Events
[
edit
]
On to Glenumbra
[
edit
]
You must consult with Captain Kaleen aboard her ship for passage to Glenumbra.
If you sided against her in the previous quest, she greets you with, "I swore never to sail with you again. But Chief Tazgol has asked me to sail you to Glenumbra, which I will do." Say you need her to take you to Daggerfall, and she replies, "Only out of respect for the chief and for the good of the alliance, not for you. Are you ready to go?" Upon arrival, the captain will announce, "We've arrived. Welcome to Daggerfall." If spoken to again, she will brush you off: "We're here, in Daggerfall. Now get off my boat."
If you sided with her in the previous quest, she instead greets you with, "I commend you again on choosing to keep the relic for the Covenant. But Chief Tazgol tells me we must hasten to Glenumbra." Telling her that you carry Tazgol's official petition for joining the Daggerfall Covenant, she replies, "The Spearhead is set to sail. Are you ready?" Upon arrival, the captain will announce, "We've arrived. Welcome to Daggerfall." If spoken to again, she will appreciatively remark, "I know that many aren't happy you kept the relic, but you made the right decision. If you're ever in trouble, you can call on my blade. I hope we get the chance to sail together again, my friend."
Dialogue
[
edit
]
Wayrest
[
edit
]
Kaleen can be found aboard her ship in Wayrest. Her dialogue depends on the decision made about the Carzog's Demise Relic. If the relic was destroyed:
"Well. What are you doing on my boat?"
I wanted to see how the crew was doing?
"We're sailing for the Daggerfall Covenant now. Privateering is as profitable as ever, except now we're splitting the skulls of Elves as well. Lambur and her lot have all left, probably for the better."
So she's started her own crew?
"Hardly. She couldn't raise enough money to buy her own ship. I offered to help, but she took that as an insult. I guess eight years of sailing together doesn't mean so much."
You must understand why the relic had to be destroyed.
"I understand that the Aldmeri Dominion sacked Farwatch in Glenumbra, and we couldn't stop them. I understand they've sunk dozens of our ships in cowardly assaults.

With that relic, we could have stopped those attacks."
It still doesn't justify using something so evil.
"Tell that to Nicolene. her brothers died when the Elves assaulted Daggerfall. We repelled them, but hundreds died. The Elves and their mad queen are chewing us up everywhere you look.

You should probably leave before I hurt you."