Online:Bulag Idolus
The UESPWiki – Your source for The Elder Scrolls since 1995
This page contains deprecated information about Elder Scrolls Online content.
The content described here was removed from the game after Update 16.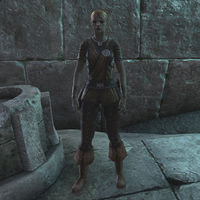 Bulag Idolus is an Orc who can be found at Naril Nagaia in Greenshade, Orc's Finger Ruins in Rivenspire, Chid-Moska Ruins in Shadowfen, or Pulk in Vvardenfell.
She used to be one of Canthion's tenants and ran a skooma operation on the property. When Canthion discovered what she was doing, she stole the property's deed from his office and left town (Vulkhel Guard, Daggerfall, Davon's Watch, or Vivec City). Her old partner Szugogroth searched her place and learned where she went.
Related Quests
[
edit
]
Quest-Related Events
[
edit
]
A Friend In Need
[
edit
]
"Let's not do anything hasty. The only knife on me is duller than a Breton stableboy. I use it to butter my bread.
The knife, not the .... Look, what do you want?"
Are you Bulag Idolus?
"I am. And it seems I wasted gold buying protection from these idiots.
What are you, some sort of bounty hunter? Competition, looking to end my operation?"
Canthion sent me to recover his deed and his key.
"You're ... you're here to repossess that hole in the wall? I only stole the deed so that arse-twig Canthion couldn't send the Guard after me. Its only use to me now is for wiping.
So how does this work? I hand it over and you forget I was here?"
No. I'll just take it off your corpse. [Bulag Idolus dies]

(Dialogue ends and you kill her automatically)

Yes. If you give me the deed and the key, I'll let you go.

"Deal. Take it.
Now. I'll go my way, and you go yours."
Agreed.