Online:Barbed Hook Private Room
The UESPWiki – Your source for The Elder Scrolls since 1995

Like every busy port, Skywatch has a seamy underside. A private room at the Barbed Hook offers easy access to the criminal classes—and a quick escape from the nearby docks.
Zone
Calambar, Auridon
Location
At the Barbed Hook Tavern in Skywatch
House Prices
Gold
11,000 
Unfurnished
600 
Furnished
800 
House Stats
Type
Staple
Size
Apartment
Style
Altmer
Traditional Furnishings
50 (100)
Special Furnishings
(?) (0)
Collectible Furnishings
1 (2)
Special Collectibles
1 (2)
Player Cap
6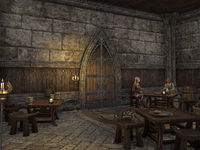 Barbed Hook Private Room is a player apartment in Skywatch. Although similar in size to the staple inn rooms, this room has a fireplace. It can purchased for 0001100011,000 

after completing A Friend In Need. Or you can purchase it for 00600600 

(00800800 

furnished) without completing the quest.
Base Furnishings
[
edit
]
Lighting (1)
Candles (1)
Furnished
[
edit
]
Includes the above, in addition to:
Dining (4)

Benches (1)

Chairs (1)

Tables (2)

Hearth (13)

Baskets and Bags (1)

Breads and Desserts (1)

Dishes (3)

Drinkware (5)

Laundry (1)

Meats and Cheeses (1)

Utensils (1)

Library (7)

Desks (1)

Literature (1)

Shelves (3)

Supplies (2)

Lighting (3)

Fires (1)

Candles (2)

Parlor (2)

Rugs and Carpets (1)

Tapestries (1)

Suite (2)

Bedding (1)

Trunks (1)
Achievements
[
edit
]
There are three achievements associated with this house:
Achievement
Points
Description
Homeowner
5
Obtain and enter any of the following staple homes.
Freeholder
10
Obtain and enter three of the following staple homes.
Citizen
15
Obtain and enter five of the following staple homes.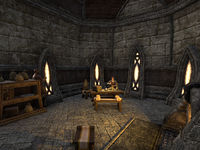 This apartment was added to the game world in Update 12, replacing an office room in the tavern.
Contrary to the description, this apartment isn't necessarily all that appealing to a would-be criminal (at least no more-so than the average home), since guards do regularly patrol the docks, and there is no Outlaws Refuge in Skywatch.