Online:Aide Kjarc
The UESPWiki – Your source for The Elder Scrolls since 1995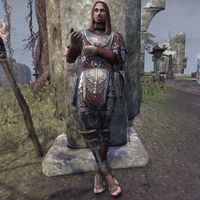 Aide Kjarc is a Nord found at the Riverside Markets in the city of Stormhold. He is an aide to the vicecanons.
Dialogue
[
edit
]
Before accepting Three Tender Souls:
"Newcomer, aren't you? You've got to check in with Vicecanon Hrondar."
If you speak to him after accepting Three Tender Souls:
"I heard Vicecanon Hrondar tasked you with investigating the murders.
Yeah, well ... good luck."
What can you tell me about Stormhold?
"It's wet, swampy, and the damp makes me itch under my armor.
This was the Dunmer toehold in Black Marsh, back when they were enslaving Argonians. Now the town's trying to find a new line of trade, with the vicecanons based here and all."
Who are the vicecanons?
"The Argonians have a history with the Dunmer, so somebody thought it would be smart to have three Pact vicecanons rub the town: Viceanon Hrondar, Vicecanon Servyna, and Vicecanon Heita-Meen.
Mostly that means the Nord makes sure the other two get along."
After Three Tender Souls:
"Missing Argonians and murdered Dunmer are one thing, but to have Vicecanon Hrondar missing, that's a different pot of stew.
The other vicecanons can't ignore this."
What about the vicecanons?
"Three of them oversee Shadowfen. Two were heroes of the Akaviri war: Vicecanon Servyna from Morrowind and Vicecanon Heita-Meen from Black Marsh.
Gerent Kaild is new. He's from Skyrim. I don't know much about him. He replaced the late Vicecanon Hrondar."