Online:Aba-Loria
The UESPWiki – Your source for The Elder Scrolls since 1995
In Old Elvish, aba-loria means "forbidden darkness." According to scholars of the long-lost Heartland Elves, it was also the name of the mortuary crypts of the ancient Ayleid city of Abagarlas.
Discovery
Leveled XP
Completion
Dungeon Clear
Leveled XP
Skyshards
1
Occupants
Bone Colossi, Cirterisse, Risen Dead, Skeletal Archers, Skeletal Defenders, Skeletal Illusionists, Skeletal Nightblades, Skeletal Warriors, Worm Cult Bonelords, Worm Cult Cryomancers, Worm Cult Dreadmages
Zone
Shrouded Plain, Coldharbour
Location
East of the Spurned Peak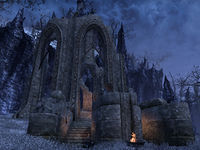 Aba-Loria is an Ayleid ruin in central Coldharbour, east of the Spurned Peak containing Worm cultists. They are led by Cirterisse.
Clearing the Dungeon
[
edit
]
Explore and clear Aba-Loria.
To clear this dungeon and mark it as complete, you need to kill the following bosses:
Achievements
[
edit
]
There is one Achievement associated with this location: