Oblivion:The Beast's Maw
The UESPWiki – Your source for The Elder Scrolls since 1995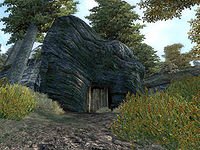 The Beast's Maw is a medium-sized cave between Bruma and Cheydinhal containing monsters. It contains two zones: The Beast's Maw and The Beast's Maw Caverns.
Exterior
[
edit
]
The exterior is located at coordinates: Tamriel 17, 29
This location's map marker (M on map) is named The Beast's Maw (editor name TheBeastsMawMapMarker). The entrance door is N of the marker, 40 feet away.
0-2 Monsters are near the entrance
2 Wilderness Creatures (Forested Mountains variety) are near the entrance
The following plants can be found near the entrance: 3 Clouded Funnel Cap plants, 15 Monkshood plants, and 1 Motherwort plant
Zone 1: The Beast's Maw

[

edit

]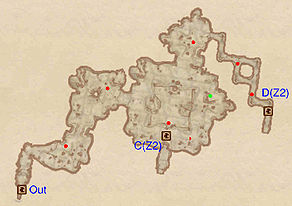 Despite an interesting name, this dungeon is fairly unoriginal and is home to more nuisance creatures than to monsters. The first two rooms in the first zone are mostly empty except for two enemies. The next area is an intersection containing up to two enemies and the only chest in this zone. From here, you can decide where to go; choosing to go through door C will lead you into a canyon in the second zone that contains only a couple of nuisance animals. Navigating the hallways northwest of the intersection and taking door D will go to the upper area of the zone, which contains the last two chests in this dungeon. Therefore, taking door D is recommended.
Occupants:
Treasure:
Doors and Gates:
There are three doors in/out of this zone
Zone 2: The Beast's Maw Caverns

[

edit

]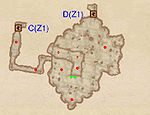 Depending on how you entered this section of the dungeon, you'll either be at the bottom of the canyon in this zone or on the area above it. If you took door D and are on the upper area of this section of the cave, you'll find two chests located on the southern rim of the canyon. Those who took door C only end up in the canyon, where only nuisance animals can be found.
Occupants:
Treasure:
Doors and Gates:
There are two doors (at C and D) in/out of this zone, both leading to the zone The Beast's Maw