Oblivion:Hrota Cave
The UESPWiki – Your source for The Elder Scrolls since 1995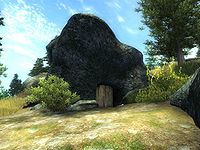 Hrota Cave is a small cave north of Anvil containing bandits (quest-related). It contains only one zone, Hrota Cave.
Related Quests
[
edit
]
The cave is abandoned before its related quest and contains monsters when the quest is completed.
This cave contains 7 Cairn Bolete plants and 2 Wisp Stalk plants.
Exterior
[
edit
]
The exterior is located at coordinates: Tamriel -48, -5
This location's map marker (M on map) is named Hrota Cave (editor name HrotaCaveMapMarker). The entrance door is NNW of the marker, 40 feet away.
1 Road Creature (Highlands variety) is near the entrance
Zone 1: Hrota Cave

[

edit

]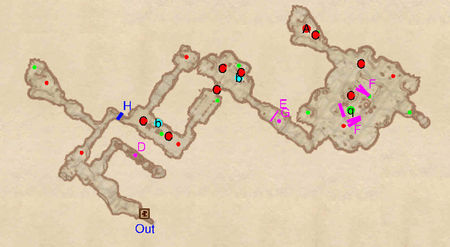 Upon entering, carry on past the first tunnel to your right; it only leads to a dead end with a cave in trap (D). Head left at the next opportunity to loot a chest. The rock wall at H will slide down as you approach, and you will be faced with Dennilwen and Githriian (C). The room also contains a minor loot chest and a bedroll (b).
In the next corridor, try to lure Thiirchel (C) towards you to avoid fighting three thieves at the same time. Loot the chest near the door and head into the next room, where Nedhelfin and Thrangirfin (C) await. They are also guarding a minor loot chest and a bedroll (b).
Avoid the swinging mace trap at G and head into the final room. Here Niraegaer and Cingaer (C) are guarding two minor loot chests, Newheim the Portly's family heirloom (on the table at q) and a Shepherd's Pie. In a small room to the northwest you will find Idrolian and another chest.
After the related quest, the cave is populated by monsters. They are evenly spaced out among the rooms, so you shouldn't ever face more than one at a time. The boss (A) is found in the final room.
Occupants:
After Quest Completed:
1 boss-level Monster at A
7 Monsters
Treasure:
Traps:
Doors and Gates:
There is one door (at Out) in/out of this zone, leading outside
1 Rock Wall (opened by activating it) at H
Other:
2 bedrolls at locations b on map