Oblivion:Glademist Cave
The UESPWiki – Your source for The Elder Scrolls since 1995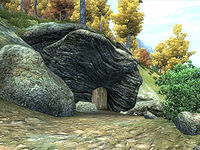 Glademist Cave is a small cave between Chorrol and Bruma containing monsters (quest-related). It contains only one zone, Glademist Cave.
Related Quests
[
edit
]
This cave can be fully explored before the quest; the enemies will then be monsters and animals and Ajum-Kajin will not be present. During the quest, you will have to kill all seven Blackwood Company Guards to advance.
Exterior
[
edit
]
The exterior is located at coordinates: Tamriel -4, 26
This location's map marker (M on map) is named Glademist Cave (editor name GlademistCaveMapMarker). The entrance door is ENE of the marker, 50 feet away.
1 Wilderness Creature (Forested Mountains variety) is near the entrance
The following plants can be found near the entrance: 125 Bergamot plants, 4 Green Stain Cup plants, 16 Motherwort plants, and 18 Steel-Blue Entoloma plants
Zone 1: Glademist Cave

[

edit

]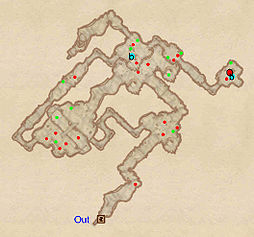 Upon entering from door Out, everything seems quiet at first; after a few twists and turns you will encounter the first Blackwood Company Guards standing near a bonfire. Because of the quest requirement, you will have to dispose of them; remember to loot the corpses for some high level equipment. Go through the wooden door to the south and follow the narrow tunnel for a minor loot chest. Backtrack to the corpses and follow the northern path until you reach a campsite with a bedroll at b and a chest. Take the southern path until you emerge in a large room with a pit in the middle. Two Blackwood Guards can be found across the bridge, so pick the fight and continue on through the wood door. The next large room is guarded by another Blackwood Guard and you will have no choice but to fight. Loot the nearby chest and proceed through the northern tunnel, with caution, as the two final guards can be found just around the corner. Dispose of them, make sure to examine the cupboard and the various containers, then finally enter the secret hideout of your target at Q, Ajum-Kajin.
Occupants:
Treasure:
Doors and Gates:
There is one door (at Out) in/out of this zone, leading outside
Other:
2 bedrolls at locations b on map