Arena:Southpoint
The UESPWiki – Your source for The Elder Scrolls since 1995
"Southpoint is the southern most port city in Valenwood. To the south can be seen the Blue Divide..."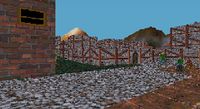 Southpoint is a city-state located on the southern coast of Valenwood. The ruler is Queen Mindra. Its rivals are Eldenroot and Haven.
Locations
[
edit
]
Inns

Black Anchor
Black Port
Flying Anchor
Flying Noose
Flying Pier
Green Gibbet
Haunted Anchor
King's Pier
Rusty Gibbet
Thirsty Treasure
White Skull

Temples

Conclave of Truth
Order of the Gentle Hand
Order of the Golden Tomb
Order of the Knights of Hope

Stores

<random>'s Finest Equipment Store
<random>'s Finest Armaments
Bargain Provisions
Bargain Tool Store
Bargain Weaponry Store
<random>'s Professional Provisions
New Gear Store
New Provisions
New Tool Store
<random>'s Quality Sundries
<random>'s Supply Store
<random>'s General Accouterments
<random>'s Quality Provisions
The Basic Accouterments
The Basic Equipment Store
The Essential Accouterments
The Essential Armaments
The city-state Accouterments
Unearthed Gear Store
Southpoint is a possible starting location for Wood Elves.