Arena:North Point
The UESPWiki – Your source for The Elder Scrolls since 1995
"North Point hail thee, traveler. We wish you good fortune within our walls..."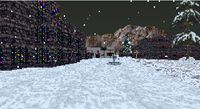 North Point is a city-state located on the northern coast of High Rock. The ruler is Queen Elona. Its rivals are Evermore and Shornhelm.
Locations
[
edit
]
Inns

Black Noose
Blue Albatross
Blue Cup
Blue Mug
Crimson Treasure
Dancing Serpent
Devil's Albatross
Dirty Locker
Flying Galley
Gold Cup
Gold Locker
Gold Mug
Gold Skull
Haunted Chest
Haunted Crow's Nest
Howling Gull
Laughing Serpent
Queen's Tide
Restless Port
Rusty Wharf
Screaming Ship
Silver Noose
Thirsty Saber
Thirsty Wharf

Temples

Brotherhood of Charity
Brotherhood of Justice
Brotherhood of Temperance
Conclave of Justice
Conclave of Solitude
Order of the Red Rose

Stores

<random>'s Sundries
<random>'s Merchandise
<random>'s General Accouterments
Elite Supply Store
<random>'s Professional Armaments
New Armaments
The Adventurer's Provisions
The Basic Merchandise
The Emperor's Supply Store
The Emperor's Weaponry Store
The Essential Provisions
The Practical Tool Store
<random>'s Professional Accouterments
Used Armaments
North Point is a possible starting location for Bretons.