Arena:Shornhelm
The UESPWiki – Your source for The Elder Scrolls since 1995
"Shornhelm welcomes all who find themselves within our walls upon their journey. May good fortune smile upon thee and be merciful..."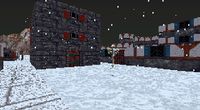 Shornhelm is a city-state located in north-central High Rock. The ruler is King Rodore. Its rivals are North Point and Wayrest.
Locations
[
edit
]
Inns

Blue Dungeon
Blue Helm
Blue Jug
Dancing Ogre
Devil's Dragon
Dirty Chasm
Flying Cup
Flying Griffon
Flying Guard
Gold Castle
Green Bird
Green Jug
Haunted Wolf
Howling Dungeon
Howling Sword
King's Bird
King's Dragon
Lucky Wolf
Queen's Dragon
Red Cup
Restless Ogre
Rusty Cup
Silver Wolf
Thirsty Golem
Unfortunate Golem
Unfortunate Helm

Temples

Brotherhood of Charity
Brotherhood of Gideon
Brotherhood of Seth
Brotherhood of War
Brotherhood of the One
Conclave of Temperance
Order of the One Prophet

Stores

Bargain Accouterments
Elite Equipment Store
<random>'s Professional Merchandise
The Adventurer's Equipment Store
The Basic Accouterments
The Basic Weaponry Store
The Emperor's Armaments
The Practical Accouterments
The city-state Provisions
<random>'s Equipment Store
Vintage Equipment Store
Shornhelm is a possible starting location for Bretons.