Arena:Evermore
The UESPWiki – Your source for The Elder Scrolls since 1995
"We of Evermore welcome you into our walls. Many call this their home and extend their welcome. Remember this, lest you forget who you would face in the world outside..."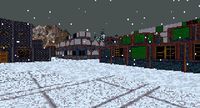 Evermore is a city-state located in eastern High Rock. The ruler is King Tristynak. Its rivals are North Point and the Imperial City.
Locations
[
edit
]
Inns

Dancing Golem
Dirty Cup
Gold Goblin
Laughing Jug
Queen's Chasm
Rusty Dragon
Thirsty Pit
Thirsty Wolf
Unfortunate Dragon

Temples

Brotherhood of Gideon
Brotherhood of Justice
Brotherhood of Mercy
Brotherhood of Temperance
Conclave of Temperance
Order of the Gentle Hand
Order of the Golden Tomb
Order of the Knights of Hope
Order of the Red Rose

Stores

<random>'s Quality Weaponry Store
Bargain Merchandise
<random>'s Finest Provisions
Elite Supply Store
<random>'s Tool Store
New Armaments
New Supply Store
The Essential Tool Store
The Practical Supply Store
<random>'s Equipment Store
<random>'s General Supply Store
Used Sundries
Vintage Armaments
Vintage Equipment Store
Vintage Weaponry Store
Evermore is a possible starting location for Bretons.