Skyrim:Tormir
The UESPWiki – Your source for The Elder Scrolls since 1995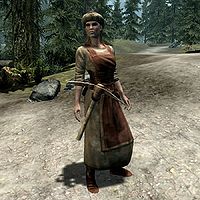 Tormir is a Nord ranger and a resident of Darkwater Crossing who works at Goldenrock Mine. She is the mother of Hrefna.
She wears some clothes, a pair of boots, and a hat. She carries a pickaxe, an iron dagger, and some common gold and loot.
She gets up at 7am and eats a one hour breakfast at her campsite. At 8am, she then heads to the mine to get to work, only stopping to eat in the mine at noon. At 4pm, she's done for the day in the mine, so she heads back to the campsite, eating dinner at 6pm. She then goes to bed at 11pm, in her bedroll.
She seems like a helpful person, often asking, "Is there something I can help you with?" She also seems slightly worried about the war, saying, "We keep hearing that the war could come through here. I try not to worry about it." She also often complains about Hrefna's father, saying, "I'm not proud of Hrefna's father. If she knew him, she wouldn't be either." or "It's tough to keep track of Hrefna. If her father wasn't such a snowback, he'd be around to help out." She also mentions a man named Dasturn, though it's never specified if he's Hrefna's father, "What's your trouble? Dasturn telling tales again?" When asked about Darkwater Crossing, she give a brief description of the settlement, saying, "Not much to it, really. We fish, and keep to ourselves. Try to keep from upsetting the Empire or the Stormcloaks, and so far the war's left us alone." Though she never actually states her political views, her daughter Hrefna does tell you what her mother believes, even though she herself secretly disagrees: "Mom says the Empire is mean, but I don't think they're that bad."
She can often be seen talking to Hrefna or her fellow miner, Sondas Drenim:
Hrefna: "And Meieran thinks that we should go there."
Tormir: "I don't want to hear another word about what you're learning from the elf! It's high time you learned to be a Nord, too!"
Hrefna: "But mama..."
Tormir: "He's a half-decent farmer. Ask him to teach you to farm!"
Tormir: "Thanks for looking after Hrefna."
Sondas: "Oh, it's no trouble. She's a smart little girl. Might talk your ear off, but she's fun."
Tormir: "Well, I know she thinks the world of you."
Sondas: "Well, I'll try to be a good influence, then."
Tormir: "Sondas, does Hrefna ever mention Meieran to you?"
Sondas: "She hardly mentions anything else."
Tormir: "I'm just worried about what he's teaching her."
Sondas: "I wouldn't worry about that. He's a good elf. I trust him."
Tormir: "You're probably right."
Curiously, Kjeld is marked as Tormir's foe in the Creation Kit, which, coupled with his apparent bellicosity, suggests that he may, in fact, be Hrefna's father.