Online:Zabashlargo
The UESPWiki – Your source for The Elder Scrolls since 1995
Zabashlargo
Home City
Vivec City
Race
Khajiit
Gender
Male
Health
(?)
Reaction
Justice Neutral
Pickpocket
(?)
Profession
Laborer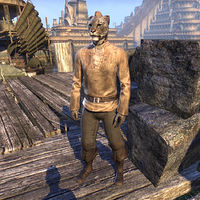 Zabashlargo is a Khajiit laborer found in Vivec City. He can be overheard talking to Taxilteer or Sadas Vidron.
Dialogue
[
edit
]
Various conversations can be overheard.
Taxilteer: "Work has been slow without enough quarry stone."
Zabashlargo: "I know. I've had more time off than I'd like. Maybe I should go to the quarry myself. Better than sitting around all day."
Sadas Vidron: "Is it true? There's a new archcanon?"
Taxilteer: "Of course! There was a wonderful ceremony and everything!"
Zabashlargo: "I've never been that close to Lord Vivec before. Archcanon Llevule will do wonders for the city!"
Sadas Vidron: "I do hope so."