Online:Sadas Vidron
The UESPWiki – Your source for The Elder Scrolls since 1995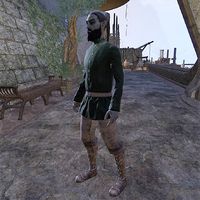 Sadas Vidron is a Dunmer who can be found in Vivec City. He and his companions are found on the lower level of St. Delyn Canton across the bridge from St. Olms Canton. He cannot be spoken to, but he can be overheard talking to other citizens. His conversations appear to be catered to which quests the player has completed.
Dialogue
[
edit
]
Nephothal: "We've been waiting to see Lord Vivec for three days. Do you think something's wrong?"
Hlavora Fedos: "I don't know. The Buoyant Armigers say there's nothing to worry about, but something feels wrong."
Sadas Vidron: "You two need to stop worrying. Everything is fine. The Ordinators say so!"
After completing Molag Mar's objective:
Sadas Vidron: "Do you think those Ashlanders are still outside Molag Mar?"
Nephothal: "Of course they are. The Buoyant Armigers cleared them of all wrongdoing."
Sadas Vidron: "Still, I pray to the Three that they move along soon."
Nephothal: "You worry too much."
He can also be found on the docks, talking about the new archcanon.
Sadas Vidron: "Is it true? There's a new archcanon?"
Taxilteer: "Of course! There was a wonderful ceremony and everything!"
Zabashlargo: "I've never been that close to Lord Vivec before. Archcanon Llevule will do wonders for the city!"
Sadas Vidron: "I do hope so."
He and his friends can be difficult to find because they only appear as you exit the upper level of St. Delyn Plaza, and they are directly underneath you on the terrace below. By the time you get to their location, they will have left the spot and been disabled.