Online:Vofalgar the Wretch
The UESPWiki – Your source for The Elder Scrolls since 1995
Vofalgar the Wretch
Location
Glenumbra
Race
Nord
Gender
Male
Reaction
Friendly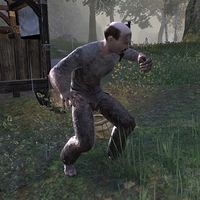 Vofalgar the Wretch is a Nord beggar who can be found in various locations around Glenumbra.
Dialogue
[
edit
]
"Divines bless you, friend! I am a good man who's fallen on hard times. I have eleven starving children that will surely die without a morsel to eat today. Won't you spare a silver for an honest man and his adoring children?"
"Silver?" Do you mean gold?
"Yes! I'm sure a wealthy traveler and hero such as yourself could spare a few gold for a worthy cause!
Won't you think of my poor children wasting away?"
"Thank you! Thank you!"
-unchecked-
Achievements
[
edit
]
There is one Achievement associated with this NPC:
Achievement
Points
Description
Give to the Poor
15
Share your wealth with needy beggars across Tamriel.