Online:The Sweetroll Killer
The UESPWiki – Your source for The Elder Scrolls since 1995
This page is currently being rewritten as part of the Online Quest Project.
The page is being both written and checked. All users are welcome to make changes to the page. If you make a change that is relevant to the project, please update this template accordingly, and make sure you have observed the project guidelines.

| | | | | |
| --- | --- | --- | --- | --- |
| | | Investigate a string of violent murders on the Gold Coast. | | |
A flier indicates that an Imperial named Reman Mevavius seeks someone for an urgent and dangerous job in the Gold Coast.
Quick Walkthrough
[
edit
]
Talk to Reman Mevavius inside The Eight Blessings inn.
Speak to the killer's targets and decide how to best protect them.
Follow one of the targets and speak to her superior.
Track the messengers, read their notes and decipher a coded location.
Head to the coded location and participate in an unexpected meeting with another old friend.
Meet your allies in Anvil and discuss further plans.
Find and confront Reman in Anvil.
Investigate the farmhouse outside Anvil.
Determine the fate of the Sweetroll Killer.
Meet with your ally to discuss the outcome of your decision.
Detailed Walkthrough
[
edit
]
This page or section is incomplete. You can help by adding to it.
For more information, see the help files, the style guide, and this article's talk page.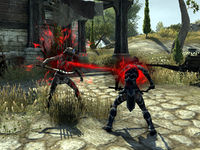 When you read one of the A Call to the Worthy notes scattered around Kvatch, you are instructed to talk with Reman Mevavius inside The Eight Blessings inn. You find Reman on the ground floor, standing beside the stock room doorway. He tells you there is a killer on the loose that sends his soon-to-be victims a sweetroll with a message inside. Further, he informs you that the killer has targeted Reman's associates. Reman gives you a list of his associates that have received the death threat and suggests that you learn the connection they share in order to find the killer before they strike again. Once you are done speaking with the man, leave the inn for the streets of Kvatch. You must interview four individuals: Dobias, Louna, Tuindal, and Yarmia.
Since Yarmia is closest, go talk to her first. Yarmia at first denies having received a sweetroll, claiming to be a simple beggar. She gets fairly upset and nervous when you question her, but she does admit to receiving a sweetroll. When she runs away, follow her. If you fail to follow her immediately, you will get a second chance to do so. Running after her is easily done, despite Yarmia throwing apples at you every now and then. When she finally stops, Yarmia halts beside Razum-dar and calls out for help to the guards with a claim that she found the Sweetroll Killer.
Razum-dar wants to talk to you about Yarmia's behavior. He informs you that he feels being a spy might not be the best path for the girl. When you press Razum-dar to find out more information, he tells you that he is also on the hunt for the Sweetroll Killer. He suggests that the three of you meet in private in a safe house once your investigation is finished.
Once you are done speaking with Razum-dar, the next target you are closest to is Tuindal. Go speak with him. Tuindal is immediately angry at you, telling you that he is a baker and that people have been calling him the killer and staying away from his merchandise as a result of his profession. He confirms for you that he received a deadly sweetroll, and he tells you that he met some of the other victims when they accused him of being the killer. Tell Tuindal that you have been hired to find the sweetroll killer. If you want to keep him alive, tell Tuindal to alter his routine so that the murderer cannot find him.
Go next to speak with Dobias Sophus, who is nearby. He confirms for you that he received a sweetroll inside a small box. Ask him if anyone else he knows received a sweetroll and he will tell you that a deceased Wood Elf merchant he worked with received one. When you ask him if he works with Remus Mevavius, he claims that he would rather not talk about that. Tell him that you were hired to find and stop the murderer, and he will ask what you think he should do. To keep him alive, tell Dobias Sophus to continue wandering the market and stay near other people.
The last person that you must speak with is Louna, who also confirms the receipt of a sweetroll. When you tell her that you were asked to look into the murders, she offers you information on her husband's murder and Reman. Though you offer to help her, she declines, stating that she is going to hide in a house in Anvil. She also warns you to watch out for Reman. Head over to the Famula's Wonders shop to speak with Razum-dar and Yarmia; they are waiting for you on the second floor. Talk with Razum-dar first to find out that the murderer killed some of Queen Ayrenn's advisors and escaped, which is why he is hunting the Sweetroll Killer. He tells you that he and Yarmia are setting a trap but he is concerned about the messenger network the murderer is using. So the plan is to locate a messenger and puzzle out what the messenger has placed around town. Razum-dar hopes this will lead to the killer's whereabouts. When you ask about Yarmia, he tells you that she is still in training.
To keep Yarmia alive, tell Razum-dar his idea is good. If Yarmia cannot handle a weapon, she should not have one.
Your next task is to track the messengers the killer is using. Exit the shop and Razum-dar tells you that he believes one of the messengers is near the hedge maze. Go west to locate the hedge maze and enter it. Razum-dar suggests you find a statue or something that can be used to hide things. When you enter the maze on the left side of Panundus's House, head in a northward direction until you find a large statue with a Suspicious Message at its base. The message reads:
The Beautiful Darkness asked that we alter our drop locations for the next state of research. Deposit the scrolls with your findings at these new locations around Kvatch. An accurate map requires all parts listed below.
Place your code at the bottom so the next runner can deliver it.
- Wolf's Everlasting Stream
- Perch Above the Sport Fighter
- Eternal Knight
- Where we Gaze Down on the Streets
Razum-dar tasks you with solving the riddle to find the four hidden messages. Exit the maze to begin your search. The clues may be found as followed:
| Clue | Clue Leads To | Location Riddle Inside Note |
| --- | --- | --- |
| Wolf's Everlasting Stream | In the fountain west of Famula's Wonders | South of the Bank |
| Perch Above the Sport Fighter | In the stands of Kvatch Arena | Not on the Main Road |
| Eternal Knight | At the base of the stone statue in front of Castle Kvatch | Inside the Building Where Three Paths Meet. |
| Where we Gaze Down on the Streets | Bridge connecting Famula's Wonders to The Eight Blessings | East of the Cathedral. |
If you wait long enough after discovering all four clues, Raz will solve the riddle for you.
To keep all allies alive, choose the following options: tell Dobius Sophus to remain in the market; tell Tuindal to alter his routine; do not give Yarmia a weapon.
Quest Stages
[
edit
]
The Sweetroll Killer
Finishes Quest
Journal Entry
To learn more about this "urgent matter," I need to travel to the inn in Kvatch and seek out an Imperial named Reman Mavavius [sic].

Objective: Talk to Reman Mevavius

Reman provided a list of people who have received the threatening sweetrolls. I should talk to them and try to determine what connects them so I can identify the murderer who targeted them.

Objective: Interview Targets on List

Objective Hint: Talk to Dobias

Objective Hint: Talk to Tuindal

Objective Hint: Talk to Louna

Objective Hint: Talk to Yarmia

Objective Hint: Follow Yarmia to Find Her Master

Objective Hint: Talk to Razum-dar

Razum-dar seems to be hunting the Sweetroll Killer, too. He suggested we meet at his hide-out above the enchanter's shop and discuss a plan of action.

Objective: Talk to Razum-dar at the Enchanter's Shop

Razum-dar thinks the messengers delivering notes throughout Kvatch might be connected to the Sweetroll Killer. He wants me to meet him outside so we can track the messengers and see what their notes have to say.

Objective: Track the Messengers

We located a note concerning drop locations, but it's written in some kind of code. I should check around the city to see if I can find locations that match these references.

Objective: Find the Hidden Messages: 0/4

Objective Hint: Wolf's Everlasting Stream

Objective Hint: Where We Gaze Down On the Streets

Objective Hint: Eternal Knight

Objective Hint: Perch Above the Sport Fighters

The notes contain background information on the targets, but not who commissioned the research. Each of the notes provides a code phrase at the bottom. If I can figure out how to break the code, I might be able to find the recipient of these messages.

Objective: Decipher the Coded Notes

Objective Hint

:

Talk to

Razum-Dar 

[sic]

Naryu and Raz have agreed to work together to track the Sweetroll Killer down. I should meet them in Anvil, where most of our current targets have gone to hide. We'll plan our next move there.

Objective: Meet Naryu and Razum-dar in Anvil

Now that we're all in Anvil, I need to talk to my allies and come up with a plan to catch the Sweetroll Killer.

Objective: Discuss the Plan with Your Allies

While Naryu and Razum-dar gather the killer's targets and get them to Engar's Hostel [sic] for safekeeping, they asked me to talk to Reman Mevavius at the Gold Coast Trading Company and find out what else he knows about the killer.

Objective: Find Reman At the Gold Coast Trading Company

Reman was somehow involved with the Sweetroll Killer. He was using me to eliminate the killer and hide his involvement. But the killer found out and killed him instead. I should meet Naryu and Raz at Engar's Hostel [sic] and tell them what I learned.

Objective: Report to Your Allies

The Sweetroll Killer has a farmhouse southeast of Anvil. I should head out and meet Naryu and Raz there.

Objective: Investigate the Farmhouse

We fended off an attack outside the farmhouse. Now we need to enter the farmhouse and confront the Sweetroll Killer, Louna.

Objective: Confront Louna Inside the Farmhouse

I should confer with Naryu and Razum-dar about what to do with the Sweetroll Killer.

Objective: Talk to Your Companions

I can either kill Louna or let her live. There are advantages and disadvantages to both options, but the decision is up to me.

Objective: Determine the Fate of Louna

We let Louna go. Now I should meet Razum-dar at the enchanter's shop in Kvatch and make sure the case of the Sweetroll Killer is really closed. (If you chose to let Louna live)

Objective: Meet Raz at the Enchanter's Shop

(If you killed Louna)

Objective: Meet Naryu At the Kvatch Inn

I should talk to Razum-dar / Naryu Virian and make sure the case of the Sweetroll Killer is actually closed.

Objective: Talk to Razum-dar / Naryu Virian