Online:The Shadow Cleft
The UESPWiki – Your source for The Elder Scrolls since 1995
"The Withering Hermit says the Shadow Cleft is just a gloom-dusk echo cast by Nocturnal's Evergloam," whispered the voice from the darkness. "But her wandering star fell long, long ago."
Completion
Dungeon Clear
(?) XP
Skyshards
1
Occupants
Crocodiles, Gloam Hags, Gloam Wolves, Grievous Twilights, Night Sister Kamira, Night Terrors, Shrike Crowcallers, Shrike Gloom Sirens, Shrike Shroudweavers, Shrike Talons, Wafts
Zone
Clockwork City
Location
South of the Clockwork Crossroads Wayshrine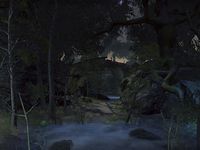 The Shadow Cleft is a delve accessible through a portal that opened up south of the Clockwork Crossroads Wayshrine. It is located in Evergloam, Nocturnal's realm of Oblivion.
Related Quests
[
edit
]
Clearing the Dungeon
[
edit
]
Explore and clear The Shadow Cleft.
To clear this dungeon and mark it as complete, you need to kill the following bosses:
Occupants
[
edit
]
Achievements
[
edit
]
There is one Achievement associated with this location: