Online:Tendinwe
The UESPWiki – Your source for The Elder Scrolls since 1995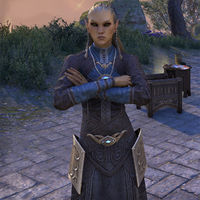 Tendinwe is an Altmer member of the Psijic Order who can be found at the base of the waterfall near Artaeum's portal to the Keep of the Eleven Forces.
Dialogue
[
edit
]
"Welcome to Artaeum, traveler.
I know it can all be a lot to take in at first, so please feel free to ask me any questions. I have quite an extensive knowledge of this island's history."
I'd like to learn more about Artaeum.
"Though it may be hard to believe, Artaeum was once part of the Summerset archipelago. That's why the flora here may seem so familiar to you.
Of course, our order has now moved the island to somewhere else entirely."
Where exactly are we then?
"Someplace safe. I don't have authority to tell you any further details, I'm afraid.
Our order has the ability to move Artaeum, or even make it intangible. That's how we've protected ourselves from invaders and outside forces."
So you've moved the island to keep it safe?
"In a sense. As observers of Tamriel, my order cannot allow outside forces to influence our judgement. Isolation allows us a certain neutrality on matters.
And with the way things are back in Tamriel, I can't see us returning anytime soon."