Online:Sword-Singer Navid
The UESPWiki – Your source for The Elder Scrolls since 1995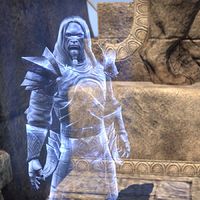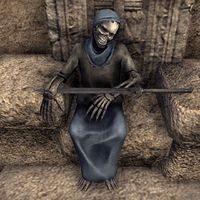 Sword-Singer Navid was a Sword-singer who was part of Grandee Yaghoub's Thirteen in life, alongside his friend Ihlqub, the Thirteen's finest archer. He was infatuated with Sayeedeh, a woman whose beauty was said to be legendary, though she did not love him back. When Ihlqub announced that he and Sayeedeh were engaged, he became envious and vengeful. His jealously grew, and Ihlqub was practicing with his bow on the beach, Navid crept behind him and called forth his Shehai, thrusting it deep into Ihlqub's back. Before he died, Ihlqub looked at him with such sadness that his heart broke in two.
Wracked with guilt, he fled to his tent killed himself with his grandest blade. Upon hearing what happened, Sayeedeh threw herself into the water from the highest cliff, never to be seen again. Navid's spirit sword persisted after his death tainted with a curse, with only those of the keenest senses can see it, and only one without a soul should be able to take it from its resting place.
Related Quests
[
edit
]
Dialogue
[
edit
]
When he appears at Na-Totambu's Landing:
"Beware! They covet this blade, and shall come for it!"
Speaking to him:
"You must leave this place. The sword is cursed."

What do you mean?

"You seek the sword, is it not so? I must tell you―you are not the first to discover it. Others tried to take it and paid a heavy toll."

What happened to them?

"Take up the blade, and you will see. The sword-cursed are here among us already, circling like half-starved jackals.
Can you not sense their jealousy? Their spite? The air is thick with it."

Jealousy?

"The curse was forged in blood and envy. I murdered my dearest friend in a jealous rage, and the blade bears that taint still.
The sword-cursed cannot bear the thought of losing the blade. If you touch it, they will come for you."

So these spirits will attack me?

"Yes. And they will not stop so long as you carry it.
Once you fall―and fall you will―you will be consumed by the same jealous desire that drives them."

What if I manage to slay them?

"They are long dead and thus cannot be killed, though they will sleep, for a time.
But the blade calls out to them, always. When they wake, they shall seek it out again... and the one who keeps it. You have been warned."

I understand.
If you speak to him at the Lion's Lomb, north of Ancestor's Landing:
"I warned you, but still you took the sword! And now you bring it to my tomb? Are you deranged?
The sword-cursed will return soon. Take the sword away! Quickly!"

You must take it back.

"I cannot! Do I not suffer enough? It has been centuries since I committed that heinous crime and the shame is no less potent! That sword is a reminder I cannot bear. Take it away! I may still find some small measure of peace."
This curse is your responsibility. You cannot place the burden on others.
"No! I cannot! I will not! This is all Ihlqub's fault! His and Sayeedeh's! I will... I will... no.
Your words are true. Leave the sword with me."
What will happen if I give it to someone else?
"(?)."
I return your sword, Sword-Singer Navid.
If you chose to make him take the sword, he will vanish and the sword will be placed on his skeleton.
"They will be plagued by the victims of the sword, just as you were. But this is why I hid the sword away! \n\nI beg you, take it and leave. I cannot bear to look at it."
"Know then the burden of my dishonor!\n\nSayeedeh never loved me, but I was blind. When she and <<1>> announced their betrothal, I believed he had forced her. I slew him, an innocent man, and realized my mistake only upon hearing her cries."