Online:Steward Eminwe
The UESPWiki – Your source for The Elder Scrolls since 1995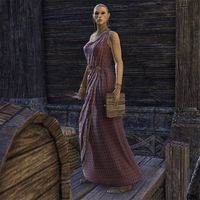 Steward Eminwe is an Altmer and member of Ayrenn's court who can be found in Vulkhel Guard. She is upset due to a recent incident with the cooks in her employ.
When you speak to her, she says, "So much to do, so much to do. Excuse me, please. Can't let her down."
Related Quests
[
edit
]
Quest-Related Events
[
edit
]
Ensuring Security
[
edit
]
Watch Captain Astanya will ask you to find her at the east warehouse.
"I'm sorry, I can't help you right now. I'm very busy and there's a lot to do."
I'm supposed to tell you Watch Captain Astanya sent me.
"Oh! All right, then. What was it? Right, the supplies.
Two of my cooks took deathly ill, right in the middle of preparing the Queen's feast! I suspect sabotage. I want to be sure all of our food supplies are safe."
You seem a bit upset. What do you want me to do?
"I'm not upset. Not at all!
I'll examine the supplies in here. You, go to the warehouse next door. Make sure everything is fresh, and there's nothing out of place."
I'll take a look for you.
Talking to her before finding any evidence of sabotage, she'll say, "I'm very worried about my cooks. I hope you can find whatever's causing the trouble!"
Once you have found some suspicious meat, you can return to her.
"Did you find anything?"
I found some salted meat. I think it's been poisoned.
"Thank the Stars! You found the problem. Hold on to that. The captain will want to see it."
If you were attacked by the Heritance Soldier during your investigation, you can tell her about it:
I was attacked by a man in some kind of uniform.
"A uniform? Hmm. Must have been a cutpurse. They're always hanging around the docks, waiting to steal away with some cargo.
Be careful around here."
I'll give the evidence to the Captain when I see her.
You can also ask about possible motives:
Why would someone poison a cook?
"I'm sure it was some kind of test, to see if they could sneak something deadly past our security. Lucky we had you on the job!"
If spoke with Eminwe first, you can ask her for further directions:
I'm to help an Advisor Norion. Do you know where he is?
"The advisor? Yes, yes. Far end of the docks, to the west. Can't miss him. Fair day!"
Thank you.
A Hostile Situation
[
edit
]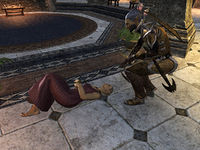 You and Battlereeve Urcelmo find her lying injured on the floor of the Temple of Auri-El. She'll try to warn you.
Battlereeve Urcelmo: "Mara be merciful. What's happened here?"
Steward Eminwe: "You. I'm sorry. I was wrong. I tried to stop them .… Watch out. On the balcony. It's Astanya!"
Steward Eminwe: It's a trap!"
A flaming arrow will then strike and kill her.