Online:Serenade
The UESPWiki – Your source for The Elder Scrolls since 1995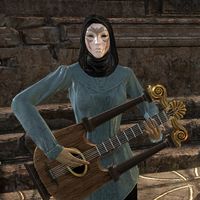 Serenade is an Altmer bard associated with the House of Reveries who can be found playing the lute on the fountain near the Baandari Bazaar in Rimmen. She was invited to perform in Rimmen by Euraxia Tharn.
Dialogue
[
edit
]
She is willing to talk to you while she performs.
"I was ever so excited when Queen Euraxia invited me to visit Rimmen. I had never traveled outside of Summerset, and I thought it would be a grand opportunity to see new sights.
Little did I know I was walking into a battleground."
"I must say, Queen Euraxia has been nothing but a gracious host.
However, it's a little difficult to see past her particular … disposition when it comes to leadership. Such as her siege weapons aimed into the city."
After Euraxia has been Dethroned:
"I understand why the Khajiit deposed Queen Euraxia, I truly do. However, losing her support has put a bit of a crimp into my current living arrangements.
Perhaps the new queen would also be willing to be my patron? Hmm?"
"I've been in the House of Reveries for years now, but felt stagnated as of late. All I did was read the same lines, perform the same roles, see the same people.
Rimmen has been an inspiring change of pace, despite my difficulties here."