Online:Razoufa
The UESPWiki – Your source for The Elder Scrolls since 1995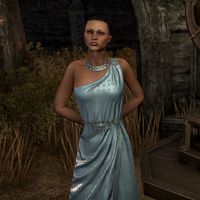 Razoufa is a Redguard achievement furnisher who can be found in the Brass Fortress at the Domicile Enhancement Hub along with her colleague, the Home Goods Furnisher Mulvise Valyn.
Dialogue:
"Come to see my stock? My wares are only for those of great accomplishments. Let's see what I have available for one such as yourself."
"Your deeds ripple, like pebbles upon a lake. More of my merchandise will be available as your achievements grow in number and greatness."
"May each piece of furniture you purchase remind you of your past accomplishments. Let all of your guests know of your greatness."
Furnishings for Sale
[
edit
]
Image
Name
Type
Cost
Achievement
Description
Active Fabrication Tank
Workshop
(Pipes and Mechanisms)
75,000 
Achievement: Hero of Clockwork City
(Clockwork City)
Disclaimer: Razoufa and her associates cannot be held liable for any property damage, laceration, dismemberment, or mortal injuries inflicted by released Verminous Fabricants.
Clockwork Stylus
Workshop
(Tools)
3,000 
Achievement: Clockwork City Adventurer
(Clockwork City)
Like most of the Clockwork Apostles' tools, this stylus has dozens of applications: engraving sequence plates, soldering the joints of a clockwork prototype, or even heating up a bowl of delicious nutriment paste!
Energetic Animo Core
Workshop
(Pipes and Mechanisms)
35,000 
Achievement: Brass Fortress Quarter Master
(Clockwork City)
A powerful variant of the standard animo core, this brass vessel contains a single overcharged soul gem. Just be careful not to crack it! The effects could be … explosive.
Mysterious Clockwork Sphere
Courtyard
(Yard Ornaments)
35,000 
Achievement: Clockwork City Master Explorer
(Clockwork City)
The nature of these massive spheres remains a mystery to even the wisest apostles. Could they be brass reproductions of celestial bodies? Waypoints for factotum navigation? The eggs of an as-yet-unnamed clockwork monstrosity? Only Seht knows.
Skeleton Key Replica
Gallery
(Display)
7,500 
Achievement: The Burden of Knowledge
(Clockwork City)
This masterful reproduction of Nocturnal's famed artifact is lovely to behold, but won't be of much use when it comes to unlocking chests, doors, minds, or destinies.
The Motionless Guardian
Courtyard
(Yard Ornaments)
12,000 
Achievement: Honorary Blackfeather
(Clockwork City)
A mountain of brass and fury—looming, silent, and utterly terrifying … if you're a member of the Blackfeather Court, that is.
The Truth in Sequence
Container
20,000 
Achievement: Clockwork City Grand Adventurer
(Clockwork City)
The collected works of Sotha Sil's Fourth Tourbillon, Deldrise Morvayn—painstakingly etched and precisely bound.