Online:Putting the Pieces Together
The UESPWiki – Your source for The Elder Scrolls since 1995
This page is currently being rewritten as part of the Online Quest Project.
The page is being both written and checked. All users are welcome to make changes to the page. If you make a change that is relevant to the project, please update this template accordingly, and make sure you have observed the project guidelines.

I'm working with Razum-dar, at the town of Mathiisen. He's looking into reports of the Veiled Heritance in the area for Queen Ayrenn.
Quick Walkthrough
[
edit
]
Search Fistalle's House in east Mathiisen.
Report to Razum-dar.
Search the forge.
Report to Razum-dar.
Search Malanie's House.
Report to Razum-dar.
Detailed Walkthrough
[
edit
]
Razum-dar tells you to meet with agent Fistalle in east Mathiisen.
Fistalle's house is across the bridge and to the right. When you enter her house, however, you find Fistalle dead on the floor. You search her body and find a strange note.
You take the note to Razum-dar who has moved to behind the barracks to the NE of Fistalle's house. Razum-dar realizes that the note is a code from Fistalle that explains who she suspected. The rat with the blade refers to Condalin, the forgemaster who controls the smithy. You may note that Condalin's house is next door to Fistalle's.
Search the Forge
[
edit
]
The forge is east of Razum-dar and Fistalle's House and next to the docks. You find the armament inventory and bring it to Razum-dar.
Investigate Malanie's House
[
edit
]
Razum-dar wants you to investigate Malanie's house. Enter the house and search the wardrobe across from the door. Inside is a Veiled Heritance Officer's Uniform.
You report to Razum-dar who is behind the house. The uniform proves that Malanie leads the Veiled Heritance in Mathiisen.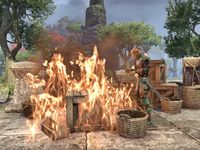 This quest originally involved gathering kindlepitch from the warehouse next to Razum-dar and using it to set fire to a crate of linens outside Malanie's house in order to distract the guard, whom Raz would later kill. This step has since been removed.
Quest Stages
[
edit
]
Putting the Pieces Together
Finishes Quest
Journal Entry
Raz is worried about being recognized in Mathiisen. He's asked me to meet with one of his agents, Fistalle.

Objective: Meet with Fistalle at Her Home

Fistalle is dead. Perhaps she left behind some information that might be of use to Razum-dar.

Objective: Search Fistalle's Body

Razum-dar mentioned he'd meet me behind Fistalle's house. I should bring him the information I found on Fistalle's body.

Objective: Take Fistalle's Note to Razum-dar

The note on Fistalle's body mentioned the forgemaster. Raz requested I search the forge for additional information.

Objective: Search the Forge

I uncovered evidence implicating Condalin the Forgemaster. I should report this information to Razum-dar.

Objective: Talk to Razum-dar

Razum-dar suspects that the Canonreeve of Mathiisen may be the other rat mentioned in Fistalle's note. He wants me to sneak into the Reeve's home.

Objective: Search Malanie's House

Hidden Objective: Enter Malanie's House

Hidden Objective: Search the Dresser

Malanie appears to lead the Heritance in Mathiisen. I should report this to Raz.

Objective: Talk to Razum-dar

I need to speak with Raz so that we can plan our next move.

Objective: Talk to Razum-dar