Online:Panolya
The UESPWiki – Your source for The Elder Scrolls since 1995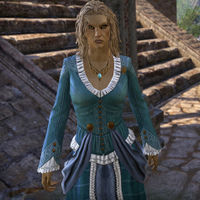 Panolya is an Altmer scholar who can be found talking to Carusian Matius in Rimmen.
Dialogue
[
edit
]
"Queen Ayrenn's heart bleeds for the Khajiit, but those considerations are subordinate to the interests of the Dominion.
The golden banner cannot turn southward yet. Once the conquest of Cyrodiil is complete, then we will deal with matters here."
"This business with the Dragons? It's a tragedy. But Dragons or not, there's a war on.
The Dominion has its heel on the throat of both the Covenant and the Pact. If we redirect our forces here, we might suffer losses in Cyrodiil. We can't have that."
"These Dragons were better off locked away. If the Akaviri could best them, then what chance do they have against the might of the Aldmeri Dominion?
Emeric and the Skald-King quake at our approach. These beasts will learn to do the same."