Online:Panewen
The UESPWiki – Your source for The Elder Scrolls since 1995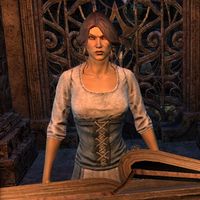 Panewen is an Altmer moneylender who handles financial matters within the Rimmen Outlaws Refuge out of Fang and Fortune. She is originally from Summerset but she was considered a hulkynd due to her facial scarring which lead to her leaving the island.
Dialogue
[
edit
]
"My face earned me the title of hulkynd back in Summerset. But here? Here I'm just another moneylender in a backwater hideout."
"My services as a moneylender are well regarded, you know. Even had the Jovial Lambasters offer me a membership. Not that I'd ever join that bunch of criminal loons."
"Being a hulkynd doesn't allow you many options in Summerset. I had to do some rather unsavory things to survive. But now I live a quiet life, counting change for petty thieves.
Funny, but that's a step up."
"The High Elves decided long ago that they didn't want me to be a part of their society. So now I count pocket change in a cellar for the thieves of Rimmen. Well, it's a living."