Online:Littrek Earth-Turner
The UESPWiki – Your source for The Elder Scrolls since 1995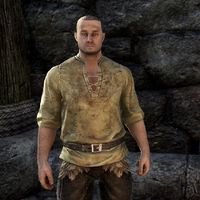 Littrek Earth-Turner is a Nord of the Earth-Turner clan found in Bleakrock Village. Later, he can be found in Fort Zeren.
He is the son of Denskar and Aera, and the brother of Trynhild.
Related Quests
[
edit
]
Dialogue
[
edit
]
Speaking to him in Bleakrock Village
"I've got a lot of work to do. Sorry."

Are the pigs keeping you busy?

"It's not the pigs. I love these pigs. They're like messy kids.
It's all the other work I have to do around here. And for what? Look at this place? Nothing grows here!"
Sparking the Flame
[
edit
]
When the Covenant sets fire to Bleakrock Village, he can be found hiding in the barn:
"I just couldn't help it.
I ran! I'm sorry."
You're going to be safe. Quickly, run to the tomb!
"Kyne protect me! Thank you. I'll go."
Speaking to him in front of Last Rest:
"They're dead. Everybody's dead, Littrek. Everybody's dead."
Escape From Bleakrock
[
edit
]
Speaking to him safely on the shores Dhalmora:
"I've never trained with a sword. Do you think maybe I could just use a wood axe?"
Crossroads
[
edit
]
Speaking with him at Fort Zeren, where he has changed out of his civilian clothes and in to a set of medium armor:
"Father and I are training hard. I think we'll be ready."
If you choose to help Rana at the docks, Littrek and his father will die. Alternatively, they will survive if you aid Darj at the fort. His sister, Trynhild, will die at the docks if you save the fort.
Zeren in Peril
[
edit
]
Speaking to him after helping him and his father drive back invaders:
"I did it! I gutted one of those bastards just as he was stepping out of a portal.
We won!"
Speaking with him after the fort is saved:
"I did it! I gutted one of those fools just as he was going for Father. We won!"
From here on out if you helped the fort, you will see Littrek and his surviving family at various locations throughout Stonefalls with the other remaining Bleakrock veterans.
Davon's Watch
[
edit
]
Littrek and his parents are attending the funeral procession for those lost at the battle of the docks, mourning for Trynhild.
"I've been praying for Trynhild, telling her about our victory at the fort.
I think... I think she'd be proud of me."
Ebonheart
[
edit
]
Littrek and the surviving troop of Bleakrock veterans can be found camping at Ebonheart. Littrek and his father have joined the Pact Army. Littrek has no dialogue here, but can be seen sparring with Denskar.
Kragenmoor
[
edit
]
He can be found in front of the Kragenmoor Fighters Guild with his father.
"Amazing, how these warriors handle themselves. I think we could learn a lot from them. If father would let us."