Online:Hinsora
The UESPWiki – Your source for The Elder Scrolls since 1995
Hinsora
Home City
Rimmen
Location
Zansora's House, first floor
Race
Khajiit
Gender
Female
Health
25974
Reaction
Justice Neutral
Pickpocket
Hard
Profession
Noble
Hinsora is a Khajiit noble living with Zansora in her house in Rimmen. She is not fond of Queen Euraxia's rule. She spends her time sitting in a chair on the first floor of the house.
Dialogue
[
edit
]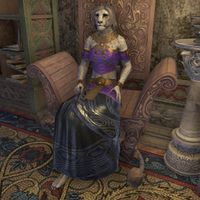 "Filthy Euraxian muskarses! A reckoing is coming, walker. Rimmen will belong to the sons and daughters of Alkosh again. Very soon."
"To the dungheap with Euraxia and her dock-tailed collaborators!
When the revolution comes, we will remember who stood with the Mane, and who did not. Count on it."
After Euraxia is deposed, she will be still out for blood:
"Euraxia may be gone, but the fight continues. Until we've nailed the hide of every traitor to the city gates, there will be no peace."
"Bright moons above! Once again, Khajiit, and not Imperials, rule over Rimmen!
All that remains is rooting out the shaveskins who stood with Euraxia. We'll find every one of these collaborators, walker. Just wait and see."