Online:Zansora
The UESPWiki – Your source for The Elder Scrolls since 1995
Zansora
Home City
Rimmen
Location
Second floor
House
Zansora's House
Race
Khajiit
Gender
Female
Health
39959
Reaction
Justice Neutral
Pickpocket
Medium
Profession
Scholar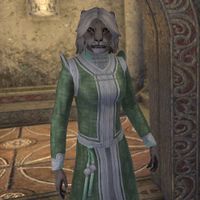 Zansora is a Khajiit scholar living in her house in Rimmen and used to be the Clan-Mother of her village. She spends most of her time reading on the second floor, but will briefly walk downstairs for a time before going back up.
Dialogue
[
edit
]
"This one was once the Clan-Mother of her village, oh yes. It was her word as to when the moon-sugar was harvested, when our stories were told.
But that was another life, walker."
"When the Moons speak, it is the Clan-Mothers who have been taught to listen. This is why their words are so valued by the clan."
"Before the chiefs, before the Mane, there are the Clan-Mothers.
They guide their clans in times of uncertainty. They speak the histories and pass down our stories. Their power is as certain and strong as the Moons which pull the tides."