Online:Giraud Scraeg
The UESPWiki – Your source for The Elder Scrolls since 1995
Giraud Scraeg
Location
Chill House
Race
Breton
Gender
Male
Health
29870
Reaction
Justice Neutral
Pickpocket
Hard
Profession
Vampire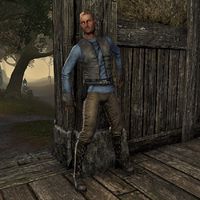 Giraud Scraeg is a Breton vampire hiding at the Chill House for fear of retribution from his Breton neighbors over his father's roots.
Dialogue
[
edit
]
"I thought I was hidden here!"
Who are you hiding from?
"My Breton neighbors! Just because my father was a Reachman, they think I'm a cursed follower of Angof."
Angof who?
"Angof the Gravesinger! He's a Reachmage, and part of this damned Bloodthorn cult.
You're not blind. You've seen the vines, right?"
Yes. How do you know so much about Angof?
"You don't trust me either? Look, I'm loyal to the Covenant. My father came from the Reach thirty years ago with Durcorach's Horde.
He was wounded at Daggerfall and left behind, and my mother... well, she took him in."
So your father told you about Angof?
"I never met him, if that's what you're asking. My father told me tales of Angof. He was a terror, even back then, and now he's here in Glenumbra.
Every Breton bully has joined his Bloodthorn cult, but I get the blame!"
What are you going to do?
Despite having the Vampire pickpocket type, Giraud shows no physical signs of being a vampire.