Online:Fralvia Celata
The UESPWiki – Your source for The Elder Scrolls since 1995
Fralvia Celata
Home City
Rimmen
Location
Baandari Bazaar, in front of the fountain
Race
Imperial
Gender
Female
Health
25974
Reaction
Justice Neutral
Pickpocket
Medium
Profession
Commoner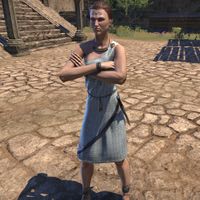 Fralvia Celata is an Imperial commoner watching Serenade of the House of Reveries play the lute at the Baandari Bazaar in Rimmen. She is standing next to Abadurr, who is far more cheerful than she is. Fralvia is dismissive of those who oppose Queen Euraxia's rule.
Dialogue
[
edit
]
"Don't pay the locals any heed, newcomer. The Khajiit of Rimmen are only happy when they're sugar-drunk or complaining about Queen Euraxia."
"The locals may chafe under Euraxia's rule, but they'd be lost without her. Everyone knows these Rimmenites don't have the capacity for self-governance. They're good for nothing but petty squabbles and superstition!"
After Euraxia has been dethroned, she will be upset by your part in it.
"You had a hand in this barbaric coup, didn't you? Damn your eyes! Without Euraxia to guide it, Rimmen is lost! I hope you're happy."
"A foe to Queen Euraxia is no friend of mine. Off with you, before I do something I regret!"