Online:Ereel-Jush
The UESPWiki – Your source for The Elder Scrolls since 1995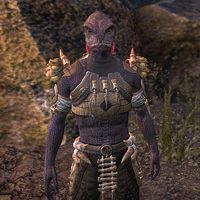 Ereel-Jush is a Naga storyteller in Mukrmire, who was tracked down by Esmada so she could learn them. However, he is irritated that she has been rewording the stories so they sound less crude.
Dialogue
[
edit
]
As you approach them on the road from Dead-Water Village, you can overhear their conversation.
Esmada: "You have to understand. Some of the imagery you've presented …."
Ereel-Jush: "Words have always been, "Blood sprayed across their snout, and their nostrils filled with the scent of despair!" Yet you speak of rubies and courage?"
He can then be asked what they are talking about:
"My tail whips from side to side, and yet you wish speak? Speak then."
What's this argument about?
"This bard asked to sing the tales of my people. Though my eyes narrowed, I allowed such a thing. But now she has changed the words!
The words must be the steady beat of a hunting drum, not flowers to be enjoyed!"
Why did she change them?
"She says our tales are too plainly spoken, and so the bard turns blood to rubies. How can she speak my people's stories, when her own tongue is coated in such honey?
I will not let her twist our words to suit the palate of her own people."
You say she doesn't respect your culture, but you're not respecting hers. You should compromise.
-unchecked-
That's a tough situation.
"Tough? Ah, like the hackwing which must be chewed slowly. Yes, the situation is tough."
If you choose to allow the story teller to alter the stories, the following exchange will occur:
Ereel-Jush: "Very well, dryskin. You may ... adjust our stories. I see now that your spineless audience will never swallow the truth of our words."
Speaking to him after making your choice, if you sided with Esmada:
"I will tell this bard our drum beat words, and watch in silence as she turns them into her flower songs. But such a thing? I will not enjoy."
Speaking to him again if you told Esmada to keep the words as they are:
"(?)"