Online:Eljhan
The UESPWiki – Your source for The Elder Scrolls since 1995
Eljhan
Home City
Rimmen
Race
Khajiit
Gender
Male
Reaction
Friendly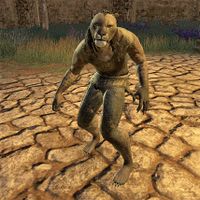 Eljhan is a Khajiit found in Rimmen. He is part of a gang of criminals that are searching for Jakarn when you first meet him. He and his partner Ak'an are lead by the criminal Tu'heiba. Eljhan is known to be "moon-touched", or a moon sugar addict, which gives him his jittery demeanor.
Related Quests
[
edit
]
Dialogue
[
edit
]
After you encounter Jakarn in Rimmen, Eljhan will appear along side his cohort, Ak'an. If you speak to him, he'll only say, "Scrawny! Stringy! Will … will cut his ears off! Cut, cut, cut!" apparently in regards to Jakarn.
Darkpool Mine
[
edit
]
Arrive at Darkpool Mine, and Tu'heiba and the gang will be waiting. Speak to him before speaking to Tu'heiba, and he'll say:
"Jakarn! Where Jakarn? Stupid Breton! No tails to bite! None!"
Speak to him after and he'll say:
"Tail! Where is Eljhan's—? There it is! Stupid tail! Stupid!"
Speak to him after returning from the mine and he'll say:
"Stink! You stink like oil! Get, or I bite you! Bite, bite!"
Finally, speak to him after concluding with Tu'heiba and he'll say:
"Get away! Go, fancy-face, or I bite you! Go!"
The Stitches
[
edit
]
Go to the terrace under the Goiter's Gulp and Tu'heiba and her gang will be waiting:
"Ak'an says you don't need biting. Fine. That's fine. If you find any sugar, bring it back, yes? Or I bite you!"